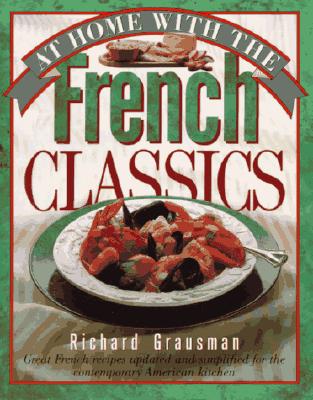 At Home with the French Classics (Paperback)
Workman Publishing Company, 9780894806339, 432pp.
Publication Date: January 12, 1988
* Individual store prices may vary.
Description
Despite our growing kitchen savvy, many Americans still find French food too intimidating, too time-consuming, and too complicated. Richard Grausman, a well-known teacher of French cooking, has had a long-time mission to dispel this fear and make French cooking accessible and understandable to the American home cook. The result? AT HOME WITH THE FRENCH CLASSICS.
This compendium of over 250 classic and traditional French dishes offers recipes that are not only approachable, but are also geared to the contemporary American lifestyle. The author has cut back on salt, fat, eggs, butter, and cream without any loss of authenticity or taste. The recipes have been streamlined by the use of modern appliances. Certain classic techniques, which are neither sensible for the modern kitchen nor vital for the recipe's success, have been revised or eliminated.
Mediterranean Fish Soup. Roquefort Cheese Souffle. Zucchini stuffed with Mushrooms and Ham. Broiled Baby Chickens with Herbs and Mustard. Poached Chicken with Creamy Tarragon Sauce. Pepper-Coated Steak with Cognac and Cream. Rack of Lamb with Watercress. And for dessert, Pears Poached in Port Wine, Chocolate Mousse, and Rich Vanilla and Chocolate Custards.
Starting with first courses and ending with after-dinner chocolates, the book contains dozens of possibilities for entertaining. Many of the dishes can be made ahead of time. Others can be made in stages, from days to weeks in advance. Selection of Better Homes & Gardens Family Book Service and Book-of-the-Month Cooking & Crafts Club. 82,000 copies in print.
About the Author
Richard Grausman, one of the country's premier cooking teachers, holds the Grand Diplôme from Le Cordon Bleu in Paris, for which he became the first exclusive U.S. representative. He's contributed articles and recipes to Food & Wine, New York, House Beautiful, and other magazines. He is the founder and president of the Careers through Culinary Arts Program (C-CAP), a nonprofit that works through public schools to prepare underserved high school students for college and careers in the restaurant and hospitality industry. Mr. Grausman and his wife live in New York City.
or
Not Currently Available for Direct Purchase