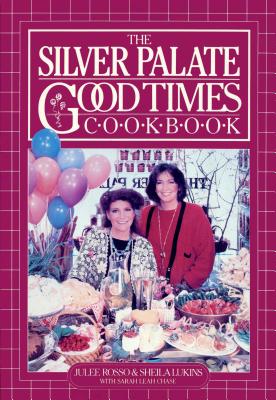 The Silver Palate Good Times Cookbook (Paperback)
Workman Publishing Company, 9780894808319
Publication Date: January 4, 1985
Other Editions of This Title:
Hardcover (2/1/1985)
* Individual store prices may vary.
Description
The authors of the national bestseller
The Silver Palate Cookbook
now bring their acclaimed gourmet style to graceful entertaining at home. In
The Silver Palate Good Times Cookbook
, Julee Rosso and Sheila Lukins make the entire year a celebration of good food, good friends, and good times, as they offer menus, suggestions, and strategies. More than 450 new recipes have been developed especially for this collection.All add to the joyfulness of the rapidly growing Silver Palate legend: there are glorious soups, savory entrees, vegetables, salads, cheese, souffles, and showstopping, just-right desserts.
As warmly inviting as the most rousing party, the pages of The Silver Palate Good Times Cookbook abound with winsome line illustrations, pertinent quotations, unusual ideas—and with dishes including Cajun Chicken Morsels, Duck and Dandelion Green Salad, Pesto Fondue, Tex-Mex Stuffed Peppers, and more. The excitement begins in spring and continues right through to winter, with a lavish Christmas Goose accompanied by Scalloped Oysters and Baked Kumquats. The good times are here, with the compliments of The Silver Palate.
About the Author
Sheila Lukins, one of America's best-known and best-loved food writers, was the co-founder of the legendary Silver Palate take-out shop. Her celebrated cookbooks, written alone and with her Silver Palate partner, Julee Rosso, helped change the way America's eats. For the past 23 years, she was also the Food editor of Parade Magazine.
Julee Rosso Miller co-authored the Silver Palate in 1979, and wrote The Silver Palate Cookbook in 1982, followed by The Silver Palate Good Times Cookbook and The New Basics Cookbook. She also wrote Great Good Food and Fresh Start, and with her husband runs the Wickwood Inn in Saugatuck, Michigan.
Sarah Leah Chase, who founded the Massachusetts specialty food shop and catering business Que Sera Sarah, collaborated on The Silver Palate Good Times Cookbook. Her other books include Nantucket Open-House Cookbook and Cold-Weather Cooking. Currently she writes a weekly food column for Nantucket's Inquirer and Mirror newspaper and is recipe consultant to Ina Garten. Sarah and her husband, Nigel, are the owners of Coastal Goods, a retailer of fine seasoning blends. They live with their son on Cape Cod.