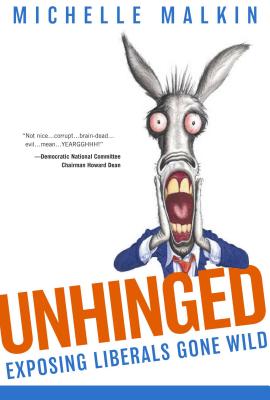 Unhinged (Hardcover)
Exposing Liberals Gone Wild
Regnery Publishing, 9780895260307, 231pp.
Publication Date: October 1, 2005
* Individual store prices may vary.
Description
Unhinged: Exposing Liberals Gone Wild is Michelle Malkin's unrestrained and uncensored exposé of hate-mongering Leftists. With wit, wisdom, and a bullet-proof vest, Malkin ruthlessly and raucously skewers the myths of liberal tolerance, peace, and civility while responding to the incendiary insults and vile slurs directed at her and other conservatives. With infuriating details that are not for the faint of heart, Malkin chronicles the bizarre world of foaming-at-the-mouth Leftists in their natural habitats: the mainstream media, academia, Hollywood, and Washington.
About the Author
Michelle Malkin is a New York Times bestselling author, nationally syndicated newspaper columnist, and FOX News Channel contributor. Her website was named one of Forbes Magazine's "Best of the Web" political blogs in 2005. Malklin lives with her husband and children in Maryland. She has never cried over an election, marched naked in Berkeley, thrown pie, or tackled a liberal heckler. Yet.
or
Not Currently Available for Direct Purchase