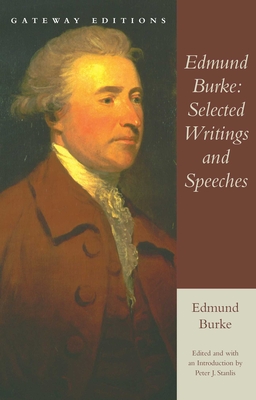 Edmund Burke
Selected Writings and Speeches
Paperback

* Individual store prices may vary.
Description
This is the most comprehensive anthology of works and speeches by the statesman and political philosopher Edmund Burke (1729-1797). Peter J. Stanlis, professor of humanities emeritus at Rockford College, has taken care to preserve the beauty of Burke's prose while selecting the most essential passages from his numerous writings.

Stanlis's introduction gives important insight into Burke's early life, education, professional training, literary and political career, prose style, political philosophy, and more.
Gateway Editions, 9780895264077, 702pp.
Publication Date: June 1, 1997
About the Author
Edmund Burke (1729-1797) was a British statesman and political philosopher best known for his support of the American Revolution and denouncement of the French Revolution. Burke's work has become essential to understanding the early development of the United States. He is also considered the philosophical founder of modern conservatism. Peter J. Stanlis (1920-2011) was Distinguished Professor of Humanities, Emeritus, at Rockford College and a world authority on Edmund Burke. He wrote several books about Burke, including Edmund Burke and the Natural Law which included an introduction by longtime friend and leading figure in the philosophical development of conservatism, Russell Kirk, who is most famous for The Conservative Mind. Stanlis was appointed to the National Council on the Humanities by President Reagan in 1982.