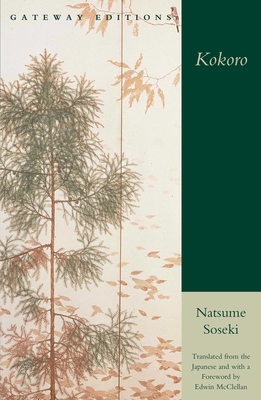 Kokoro
Paperback

* Individual store prices may vary.
Other Editions of This Title:
Paperback (9/24/2018)
Paperback (1/1/2013)
Paperback (8/11/2006)
Paperback (2/23/2010)
Paperback (3/8/2016)
Paperback, Spanish (4/1/2016)
Paperback (10/1/2011)
Description
"The subject of 'Kokoro,' which can be translated as 'the heart of things' or as 'feeling,' is the delicate matter of the contrast between the meanings the various parties of a relationship attach to it. In the course of this exploration, Soseki brilliantly describes different levels of friendship, family relationships, and the devices by which men attempt to escape from their fundamental loneliness. The novel sustains throughout its length something approaching poetry, and it is rich in understanding and insight. The translation, by Edwin McClellan, is extremely good."

—Anthony West, The New Yorker
Gateway Editions, 9780895267153, 248pp.
Publication Date: July 1, 1996
About the Author
Natsume Soseki (1867-1916) is one of the great writers of the modern world. Educated at Tokyo Imperial University, he was sent to England in 1900 as a government scholar. As one of the first Japanese writers to be influenced by Western culture, his various works are widely read in Japan, and contemporary authors in Japan continue to be influenced by his oeuvre, which also includes The Gate, I Am a Cat, Sanshiro, and The Three Cornered World. Edwin McClellan is Professor of Japanese Literature at Yale University. His translation of Kokoro, presented here, has been selected for the UNESCO Collection of Representative Works.