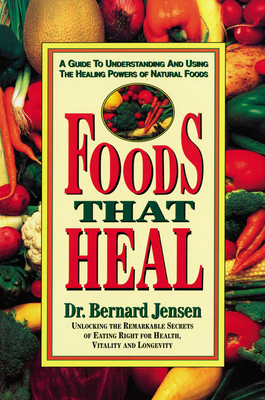 Foods That Heal (Paperback)
A Guide to Understanding and Using the Healing Powers of Natural Foods
Avery, 9780895295637, 352pp.
Publication Date: August 1, 1988
* Individual store prices may vary.
Description
In Foods That Heal, Dr. Bernard Jensen uses the teachings of Hippocrates and VG Rocine, as well as his own research and theories, to offer compelling evidence that what we ingest has a profound effect on our health and wellbeing.

Part One may change the way you look at your next meal. The section contains a host of helpful troubleshooting advice: health cocktails for common ailments, herbal teas, tonics, vitamin- and mineral-packed food combinations, and detailed data on the roles foods play in the optimum efficiency of specific bodily systems, functions, and overall health.

Part Two provides an easy-to-understand guide to fruits and vegetables. Each listing in this section presents a history of use, a buyer's guide, therapeutic benefits, and nutrient information.

Part three contains easy-to-prepare recipes utilizing the "Foods That Heal." Each recipe makes use of the freshest and most natural ingredients – ingredients that are not processed or altered by chemical preservatives, food colorings, or additives.

Both those looking to improve their health and those interested in taking an active role in enhancing their overall wellbeing will find this book interesting, informative, and full of common-sense suggestions for attaining good health through proper nutrition.
About the Author
Dr. Bernard Jensen was one of America's pioneering nutritionists and iridologists. Beginning his career in 1929 as a chiropractor, he soon turned to the art of nutrition for his own health problems. He observed firsthand the cultural practices of people in more than fifty-five countries, discovering important links between food and health. In 1955, Dr. Jensen established the Hidden Valley Ranch in Escondido, California as a retreat and learning center dedicated to the healing principles of nature where he saw firsthand the value of nutrition and iridology.

Over the years, Dr. Jensen received many honors and awards, including Knighthood in the Order of St. John of Malta; the Dag Hammarskjold Peace Award of the Pax Mundi Academy in Brussels, Belgium; and an award from Queen Juliana of the Netherlands for his nutritional work. In 1982, he also received the National Health Federation's Pioneer Doctor of the Year award.