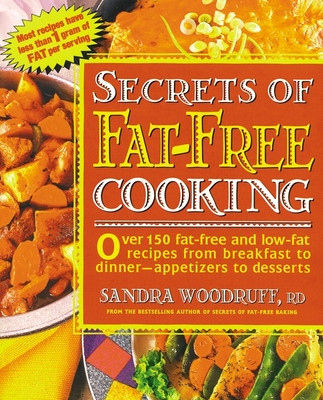 Secrets of Fat-Free Cooking (Paperback)
Over 150 Fat-Free and Low-Fat Recipes from Breakfast to Dinner -- Appetizers to Desserts
Avery, 9780895296689, 192pp.
Publication Date: January 1, 1995
* Individual store prices may vary.
Description
Many no- and low-fat cookbooks on the market that reduce fat and calories by using artificial fat substitutes, sweeteners, and highly refined processed foods.
Secrets of Fat-Free Cooking
is a very different kind of cookbook. The over 150 kitchen-tested recipes were designed to help you create low- and no-fat dishes that are easy to prepare, taste delicious, and are high in nutritional value.
Delight your family and friends at breakfast, lunch, dinner, and special occasions with this wide range of soups, salads, breads, hors d'oeuvres, and desserts. Find the secrets to making Golden French Toast, Fresh Corn Chowder, Pot Roast with Sour Cream Gravy, Hearty Oven Fries, Cranapple Acorn Squash, Refreshing Fruit Pie, and more—most with less than 1 gram of fat per serving, and all totally delicious.
Best of all, Secrets of Fat-Free Cooking shows you how to eliminate the fat in your own recipes so that you and your family can enjoy new, healthier versions of family favorites.
About the Author
Sandra Woodruff, M.S., R.D., is the author of nine books, including The Good Carb Cookbook and The Best-Kept Secrets of Healthy Cooking. A registered dietitian with a master's degree in nutrition and food science, she is a nutritional consultant to numerous medical groups. She lives in Tallahassee, Florida.