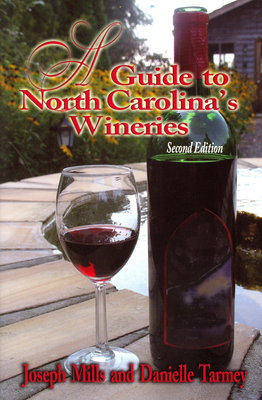 A Guide to North Carolina's Wineries (Guide to North Carolinas Wineries) (Paperback)
Blair, 9780895873422, 309pp.
Publication Date: May 1, 2007
Description
Since the first edition of A Guide to North Carolina's Wineries in 2003, the state's wineries have nearly tripled in number. Tar Heel grapes are grown in the sand of coastal islands, on mountains so steep that tractors slide down them, and everywhere in between. The winegrowers include scientists, farmers, teachers, computer geeks, and "wine bums." They make or sell their wine at idyllic country estates, in converted gas stations and barns, and in conjunction with their art galleries and restaurants. Among the newcomers is Richard Childress, as committed to winemaking as he is to his NASCAR teams. In just a few years, Childress Vineyards has assumed its place alongside noted establishments like Biltmore Estate Winery, Shelton Vineyards, and Duplin Winery. Vineyard, which the owner spent years building by hand; Thistle Meadow Winery, where the proprietor would rather teach you how to make your own wine than sell you a bottle of his; and Sanctuary Vineyards, whose owners flood 20 to 30 acres of farmland each winter to welcome thousands of snow geese. The 64 winery profiles in this second edition provide wine lists, directions to the wineries, and contact, schedule, and fee information. They also detail the history of each winery and convey some of the passion of the owners and winemakers.
About the Author
Danielle Tarmey was born in the Bahamas and spent her childhood there. When she was eight, her parents moved back to Europe. The daughter of a British father and a French mother, she has lived throughout Europe, including France, England, Italy, and Switzerland. In the United States, she has lived in both California and North Carolina. Danielle speaks French and Italian fluently and has a working knowledge of Spanish. After earning a degree in French and tourism studies at Oxford Brookes University in England, she worked in a variety of jobs in the food-and-wine industry, including positions at a wine shop, a winery, a four-star hotel, and a gourmet coffee shop. She earned her master's degree in education at Salem College. Joseph Mills was born and raised in Indiana and has lived in several states, including Illinois, New Mexico, Utah, and California. He has worked a variety of jobs ranging from staff manager of a climate research laboratory to secretary of a chemical waste facility (located in the middle of the Utah desert) to baker at a donut shop. After earning a Ph.D. in literature at the University of California, Davis, he joined the faculty of the North Carolina School of the Arts in Winston-Salem. In 2017, he received the University of North Carolina Board of Governors Award for Teaching Excellence. He has published 6 books of poetry; many of his poems have been featured on Garrison Keillor's A Writer's Almanac. Joe and Danielle met in 1995 while they were both teaching in Bordeaux, France, as part of exchange programs with their respective universities. After spending the year together working and traveling, they decided to marry. They legally married in Las Vegas during a camping trip. Six months later, they also held an outdoor wedding, presided over by Joe's brother, Scott, who is an ordained minister.
Advertisement