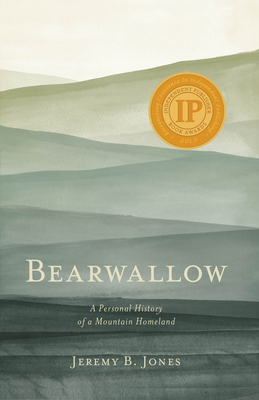 Bearwallow
A Personal History of a Mountain Homeland
Hardcover

* Individual store prices may vary.
Other Editions of This Title:
Paperback (5/25/2021)
Description
Jeremy B. Jones's essay "In Search of Dreadlocks (and Captain Zero)," originally published in Relief, was named a notable essay in Best American Essays 2009, edited by Mary Oliver. His essay "The Resurrection of Ray Jones," originally published in Ruminate, was named a notable essay in the 2011 volume of Best American Essays, edited by Edwidge Danticat. In Bearwallow, his first book, Jones turns his attention to the complex and rich world of his Appalachian past and to understanding how this landscape shaped his own identity.
Jones and his wife move into a small house above the creek where his family had settled 200 years prior, and he takes a job alongside his former teachers in the local elementary school. But living at the foot of Bearwallow Mountain after a year in Gracias, Honduras, makes Jones realize he has lost touch with his Appalachian-crafted voice. Somehow, he must "reclaim echoes of a lost voice" and "make a home of two minds."
Though he can see "how the mountains rubbed people, how] they'd been shaped by life in the highlands," he can't see it in himself. He asks, "How was I marked? How was I mountain people--how was I my people?" Thus, he sets out on a search that sends him burrowing into the past--hunting buried treasure and POW camps, unearthing Civil War graves and family feuds, exploring gated communities and tourist traps, encountering changed accents and immigrant populations, tracing Walmart's sidewalks and carved-out mountains--and pondering the future.
Throughout his book, the parallels Jones draws between seemingly disparate things--like Bearwallow Mountain and Gracias, Honduras--allows him to uncover similarities hidden just under the surface. He meshes narrative and myth, geology and genealogy, fiddle tunes and local color about the briskly changing and oft-stigmatized world of his native southern Appalachians. By doing so, he explores not only the story of his own heritage but also simplistic conceptions of Appalachia and its people. His journey back to the mystical Bearwallow Mountain reveals a peak suddenly in flux.
JEREMY B. JONES earned his MFA in nonfiction writing from the University of Iowa. His essays have been recognized in Best American Essays, nominated for the Pushcart Prize, and awarded the Emma Bell Miles Prize. His work has appeared in numerous journals and magazines, including Crab Orchard Review, Our State magazine, and Quarterly West. He teaches in the English Department at Western Carolina University.
"With his artful exploration of voice, place, and belonging, Jones . . . enters an ongoing discussion to expand and update what it signifies to be 'mountain folk.'" - Sadie Shorr-Parks, The Iowa Review
Blair - Blair, 9780895876249, 264pp.
Publication Date: June 3, 2014
About the Author
Jeremy B. Jones is the author of the memoir Bearwallow, which was named the 2014 Appalachian Book of the Year in nonfiction and awarded gold in memoir in the 2015 Independent Publisher Book Awards. His essays appear in numerous literary journals and anthologies, including Oxford American, Appalachian Reckoning, and The Iowa Review. Born and raised in the mountains of North Carolina, Jeremy earned his MFA from the University of Iowa and now serves as an associate professor of English at Western Carolina University, where he teaches creative writing and directs the Spring Literary Festival. Alongside Elena Passarello, Jeremy is the series co-editor of In Place, a nonfiction book series from West Virginia University Press.
or
Not Currently Available for Direct Purchase