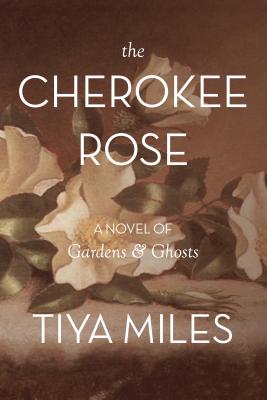 The Cherokee Rose
A Novel of Gardens & Ghosts
Hardcover

* Individual store prices may vary.
Other Editions of This Title:
Paperback (10/3/2016)
Description
Written by an award-winning historian and recipient of a recent MacArthur "Genius Grant," The Cherokee Rose explores territory reminiscent of the bestselling and beloved works of Alice Walker, Octavia Butler, and Louise Erdrich. Now, Tiya Miles's luminous but highly accessible novel examines a little-known aspect of America's past slaveholding by Southern Creeks and Cherokees and its legacy in the lives of three young women who are drawn to the Georgia plantation where scenes of extreme cruelty and equally extraordinary compassion once played out.
John F. Blair, Publisher, 9780895876355
Publication Date: April 7, 2015
Many Americans can relate to Cheyenne Cotterell's
journey to discover her genealogical history. Hearing
stories passed down by ancestors is a large part of
identity. But what if those stories don't match records
such as newspapers, census information, and other
documents? Have you ever researched your family tree? Do you have
oral histories passed onto you from relatives or ancestors?
The Cherokee Rose is full of a diverse cast of characters from the past
and present. In what ways, big and small, do you see the characters
experience or confront prejudice based on their race, class, gender, or
sexuality?
The plot of The Cherokee Rose is really begun when the characters travel
to The Cherokee Rose Plantation because it is being auctioned; this is
not something that only happens in fiction. Do you feel citizens or
governments have a duty to protect historical sites like The Cherokee
Rose Plantation? Should there be more done to document and exhibit
the true history persevered in such places?
The Cherokee Rose follows Ruth Mayes and Jinx Micco, both gay
women of color, and Cheyenne Cotterell, a black woman trying to
discover a lost Native American branch of her family tree. The novel
also features historical characters often overlooked in history books
and records. In fact, when beginning her research, Tiya Miles was faced
with an archivist who laughed at the idea of finding any significant
material on African American and Native American women. Do you
think The Cherokee Rose does well to shine a spotlight on women
whose experiences have been all but erased from history? With which
character do you most identify? (You can take this Buzzfeed quiz to see
which character you're most like!: http://www.buzzfeed.com/annabs/
which-kickass-cherokee-rose-character-are-you-13ccj)
Tiya Miles's distinguished research delving into the world of a
Cherokee-owned slave plantation in present-day Georgia culminated
into her works of nonfiction. Her research on that subject and expertise
on women's history are the foundations for The Cherokee Rose. What
aspects of the history presented in the novel surprise you most? Was
the author's note about her research enlightening or helpful? Do you
think fiction is a good tool to teach people about lesser known people
and events of the past?
or
Not Currently Available for Direct Purchase