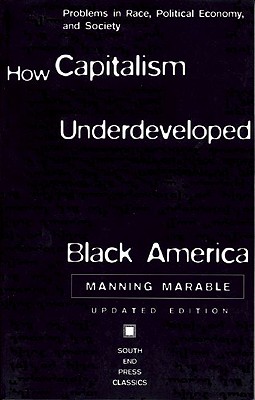 How Capitalism Underdeveloped Black America (Paperback)
Problems in Race, Political Economy, and Society (Updated Edition)
South End Press, 9780896085794, 372pp.
Publication Date: December 1, 1999
Other Editions of This Title:
Hardcover (12/1/1999)
* Individual store prices may vary.
Description
Contents
Preface
How Capitalism Underdeveloped Black America A Critical Assessment
Introduction to the First Edition
"Part 1 The Black Majority"
Chapter 1 The Crisis of the Black Working Class
Chapter 2 The Black Poor
Chapter 3 Grounding with My Sisters
Chapter 4 Black Prisoners and Punishment in a Racist/Capitalist State
"Part 2 The Black Elite"
Chapter 5 Black Capitalism
Chapter 6 Black Brahmins
Chapter 7 The Ambiguous Politics of the Black Church
Chapter 8 The Destruction of Black Education
"Part 3 A Question of Genocide"
Chapter 9 The Meaning of Racist Violence in Late Capitalism
Chapter 10 Conclusion: Towards a Socialist America
Reviews
"Manning Marable examines developments in the political economy of racism in the United States and assesses shifts in the American Political terrain since the first edition....He is one of the most widely read Black progressive authors in the country."-"Black Employment Journal"
"The reissue of Manning Marable's "How Capitalism Underdeveloped Black America" confirms that this is a classic work of political history and social criticism. Unfortunately, Marable's blistering insights into racial injustice and economic inequality remain depressingly relevant. But the good news is that Marable's prescient analysis-and his eloquent and self-critical preface to this new edition-will prove critical in helping us to think through and conquer the oppressive forces that remain."-Michael Eric Dyson, author of "I May Not Get Therewith You: The True Martin Luther King, Jr."
"For those of us who came of political age in the 1980s, Manning Marable's "How Capitalism Underdeveloped Black America" was one of our bibles. Published during the cold winter of Reaganism, he introduced a new generation of Black activists/thinkers to class and gender struggles within Black communities, the political economy of incarceration, the limitations of Black capitalism, and the nearly forgotten vision of what a socialist future might look like. Two decades later, Marable's urgent and hopeful voice is as relevant as ever."-Robin D.G. Kelley, author of "Yo' Mama's DisFunktional :
or
Not Currently Available for Direct Purchase