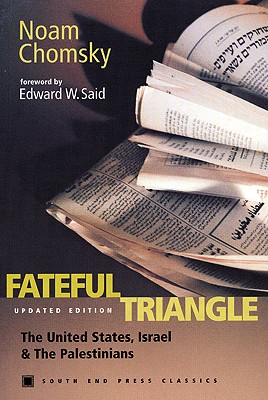 Fateful Triangle (Paperback)
The United States, Israel, and the Palestinians
South End Press, 9780896086012, 578pp.
Publication Date: April 1, 1999
Other Editions of This Title:
Hardcover (7/1/1999)
* Individual store prices may vary.
Description
Contents
Foreword by Edward W. Said
Preface to the Updated Edition
1. Fanning the Flames
2. The Origins of the "Special Relationship"
3. Rejectionism and Accommodation
4. Isreal and Palestine: Historical Backgrounds
5. Peace for Galilee
6. Aftermath
7. The Road to Armageddon
8. The Palestinian Uprising
9. "Limited War" in Lebanon
10. Washington's "Peace Process"
Index
An Excerpt from "Fateful Triangle, Updated Edition"
For some time, I've been compelled to arrange speaking engagements long in advance. Sometimes a title is requested for a talk scheduled several years ahead. There is, I've found, one title that always works: "The current crisis in the Middle East." One can't predict exactly what the crisis will be far down the road, but that there will be one is a fairly safe prediction.
That will continue to be the case as long as basic problems of the region are not addressed.
Furthermore, the crises will be serious in what President Eisenhower called "the most strategically important area in the world." In the early post-War years, the United States in effect extended the Monroe Doctrine to the Middle East, barring any interference apart from Britain, assumed to be a loyal dependency and quickly punished when it occasionally got out of hand (as in 1956). The strategic importance of the region lies primarily in its immense petroleum reserves and the global power accorded by control over them; and, crucially, from the huge profits that flow to the Anglo-American rulers, which have been of critical importance for their economies. It has been necessary to ensure that this enormous wealth flows primarily to the West, not to the people of the region. That is one fundamental problem that will continue to cause unrest and disorder. Another is the Israel-Arab conflict with its many ramifications, which have been closely related to the major U.S. strategic goal of dominating the region's resources and wealth.
For many years, it was claimed the core problem was Soviet subversion and expansionism, the reflexive justification for virtually all policies since the Bolshevik takeover in Russia in 1917. That pretext having.