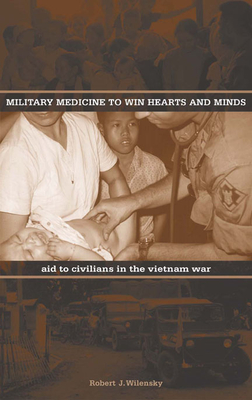 Military Medicine to Win Hearts and Minds (Hardcover)
Aid to Civilians in the Vietnam War (Modern Southeast Asia)
Texas Tech University Press, 9780896725324, 207pp.
Publication Date: November 15, 2004
* Individual store prices may vary.
Description
American soldiers have provided medical aid to civilians in many wars, and no less in the Vietnam War, where there were more than forty million contacts between U.S. medical personnel and Vietnamese civilians. Robert J. Wilensky, using data derived from extensive archival research as well as his personal experience in Vietnam, shows how medical aid to Vietnamese civilians, at first based simply on good will, became policy. The original Medical Civic Action Program (MEDCAP), by which unit medical teams treated civilians in their area, soon expanded to other acronymically designated programs: the Military Provincial Hospital (later Health) Assistance Program (MILPHAP), the Civilian War Casualty Program (CWCP), and the Provincial Health Assistance Program (PHAP). Although MEDCAP treated many, American doctors were uniformly unhappy about the superficial care they were able to give. Labs, x-ray machines, and surgery were not available at the unit level; follow-up was sketchy or nonexistent. Other programs became so politicized that they were almost ineffective. Coordination with the government of South Vietnam was poor, creating areas that were underserved. Most important, there is no evidence that the good will built by U.S. doctors transferred to South Vietnamese forces. American programs may have emphasized the inability of the Republic of Vietnam to provide basic health care to its own people and may have demonstrated to Vietnamese civilians that foreign soldiers cared more for them than their own troops did. If that is the case, the programs actually did more harm than good in the attempt to win hearts and minds.
About the Author
Robert J. Wilensky, a battalion medical officer in Vietnam in 1967-68, is a surgeon who also holds a Ph.D. in history. He is on the staff of the Historical Section of the Office of the Surgeon General of the Army, teaches at George Mason University and American University, and has an appointment at the Uniformed Services University of the Health Sciences.