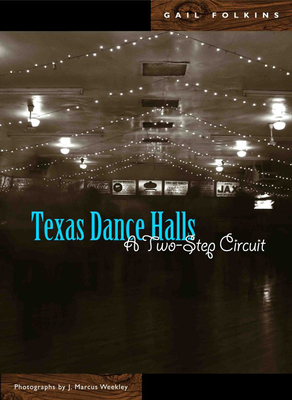 Texas Dance Halls (Hardcover)
A Two-Step Circuit (Voice in the American West)
Texas Tech University Press, 9780896726031, 212pp.
Publication Date: September 15, 2007
* Individual store prices may vary.
Description
Texas shows its best moves in dance halls that dot its landscape.Wherever they've found fiddlers and dance floors, Texans have been tickled into motion. And for a century and a half, they've been kicking up dust in dance halls across the state. Writing about the eighteen she knows best, Gail Folkins celebrates how these halls still bring people together and foster joy.Folkins etches portraits of proprietors who give space for music and dancing, of musicians who furnish the soundtrack for dramas and comedies that play out across hardwood or concrete floors, and of people who come to dance, listen, or simply share the experience with friends and neighbors. Paired with Marcus Weekley's photographs, some whirling and some dreamy, they capture beat and motion, even the scent of sawdust on the floor. Drawn in, we witness daytime preparations for evenings to come, and the quiet that returns after the dancers go home and the musicians have packed up for the night. Moving from Twin Sisters near New Braunfels to legendary Luckenbach, we meet the third generation in a family of makers of music and keepers of dance halls. And then there are the descendants of Czech Catholic settlers coming to dance under the giant letters KJT (Katolika Jednota Texaska). At Coupland Dance Hall, we sense ghostly apparitions of pioneer women in long skirts. Very much in the twenty-first century, we share a dance floor with tourists and university types among the kitschy accoutrements at Austin's Broken Spoke.
About the Author
Gail Folkins, also a journalist and teacher of creative writing, often writes about her deep roots in the American West. Her prose and poetry have appeared in numerous journals and magazines, including Lifewriting Annual and Texas Co-op Power. J. Marcus Weekley has exhibited his photography in Texas and Mississippi, as well as the National Museum of Photography, Television, and Film in the United Kingdom. His short fiction and poetry have appeared in The Iowa Review and other journals.