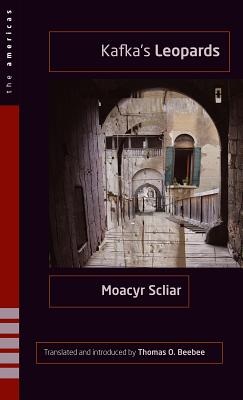 Kafka's Leopards (Americas (Texas Tech)) (Hardcover)
Texas Tech University Press, 9780896726963, 96pp.
Publication Date: August 1, 2011
* Individual store prices may vary.
Description
in 1916, just before the russian revolution, Benjamin Kantarovitch, nicknamed "Mousy," has been asked by a sick friend to deliver a message to an agent in Prague. Believing he was undertaking an important mission under direct orders by Leon Trotsky, Mousy has left his shtetl near Odessa and traveled to revolutionary Prague to rendezvous with a secret agent. But on the way, Mousy loses the envelope containing the name of the agent he is supposed to meet. In Prague, Mousy mistakenly meets Franz Kafka, who in turn mistakes Mousy for an employee of a literary magazine. Kafka gives him a text, the parable of Kafka's leopards, to be published. Mousy misreads the parable as a secret message and a call to revolution. His imagined mission fails, and he returns to his village. Years later, after immigrating to Brazil with his entire family, Mousy is tapped for the second great mission in his life--and a second round of misinterpretations takes place. At the height of right-wing repression around the time of the 1964 Brazilian coup, Mousy gives his fugitive nephew Kafka's aphorism and tells him to sell it to an antiquarian dealer in Sa Paulo. When the federal police stop to interrogate Mousy's nephew, they discover the text on his person and arrest him under suspicion of bearing a revolutionary message in code. Mousy must now save his unfortunate nephew from prison and redeem his previous misreading of Kafka's text.
About the Author
Before his death in 2011, Brazilian-born physician Moacyr Scliar had published more than seventy books and 120 stories. His works have been translated into more than a dozen languages; some have been adapted for film, television, and theater.Thomas O. Beebee is distinguished professor of comparative literature and German at Penn State University. His books include Clarissa on the Continent, The Ideology of Genre, Epistolary Fiction in Europe, Nation and Region in Modern European and American Fiction, and Millennial Literatures of the New World, 1492 2002."