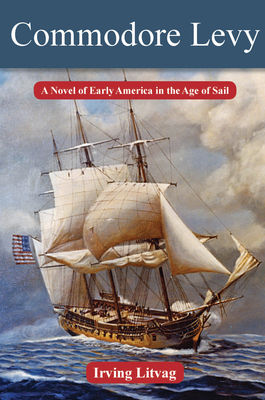 Commodore Levy (Hardcover)
A Novel of Early America in the Age of Sail (Modern Jewish History (Texas Tech University Press))
Texas Tech University Press, 9780896728813, 622pp.
Publication Date: May 15, 2014
* Individual store prices may vary.
Description
By all accounts, Uriah Phillips Levy, the first Jewish commodore in the U.S. Navy, was both a principled and pugnacious man. On his way to becoming a flag officer, he was subjected to six courts-martial and engaged in a duel, all in response to antisemitic taunts and harassment from his fellow officers. Yet he never lost his love of country or desire to serve in its navy. When the navy tried to boot him out, he took his case to the highest court and won. This richly detailed historical novel closely follows the actual events of Levy's life: running away from his Philadelphia home to serve as a cabin boy at age ten; his service during the War of 1812 aboard the Argus and internment at the notorious British prison at Dartmoor; his campaign for the abolition of flogging in the Navy; and his purchase and restoration of Monticello as a tribute to his personal hero, Thomas Jefferson. Set against a broad panorama of U.S. history, Commodore Levy describes the American Jewish community from 1790 to 1860, the beginnings of the U.S. Navy, and the great nautical traditions of the Age of Sail before its surrender to the age of steam.
About the Author
Irving Litvag was a former news writer for the CBS Radio Network and public relations executive. A lifelong resident of St. Louis, he completed this novel shortly before his death in 2005.

Bonny V. Fetterman is an independent editor specializing in books of Jewish interest. She was the senior editor of Schocken Books for over fifteen years.

"