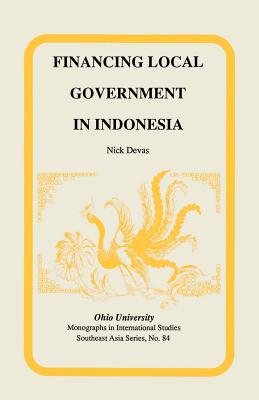 Financing Local Government in Indonesia (Paperback)
Mis Sea#84 (Ohio RIS Southeast Asia Series #84)
Ohio University Press, 9780896801530, 360pp.
Publication Date: October 30, 1989
* Individual store prices may vary.
Description
Considering the size and importance of Indonesia, remarkably little has been published in the West about the society and government of that country. With over 160 million people, it is the fifth most populous country in the world. It is an archipelago of some 13,000 islands, stretching over 5,000 kilometers from from east to west, and contains within it an amazing array of cultures, as well as ethnic, economic, and religious variations.

Not surprisingly in view of the country's great size, vast regional differences, and cultural diversity, local government in Indonesia is on a massive scale. The task of managing and financing a system of local government is a troublesome one; the development needs of different regions are vast and the tasks facing local government are generally far beyond their limited resources. It is the purpose of this book not only to describe the existing system of local government but also to analyze it, identify weaknesses and problems with the present arrangement, and to propose realistic lines of reform. This collection of essays will provide a useful and constructive contribution to the discussion of issues central to the system of local government in Indonesia.
Praise For Financing Local Government in Indonesia: Mis Sea#84 (Ohio RIS Southeast Asia Series #84)…
"The book successfully tackles a neglected and arcane area of public finances in Indonesia. As such, it is likely to be useful not only to area specialists and to students and researchers in public finance, public administration, and urban economics, but also to those who are interested in examining the case for a greater decentralized mode of economic development."

-- Mukul G. Asher, Pacific Affairs
"This is a sensible and useful collection of essays on the financing of local government in Indonesia. It provides description and analysis on an under-reported field. There is a wealth of statistical information on local government finance. The book will be a standard reference for any student taking up the field."

-- David Reeve, Journal of Southeast Asian Studies
or
Not Currently Available for Direct Purchase