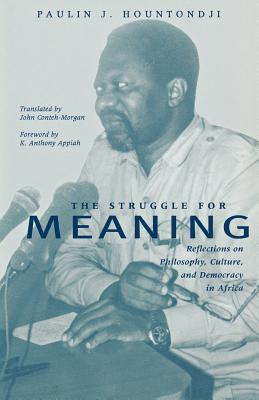 The Struggle For Meaning (Paperback)
Reflections on Philosophy, Culture, and Democracy in Africa (Ohio RIS Africa Series #78)
Ohio University Press, 9780896802254, 368pp.
Publication Date: December 15, 2002
* Individual store prices may vary.
Description
The Struggle for Meaning is a landmark publication by one of African philosophy's leading figures, Paulin J. Hountondji, best known for his critique of ethnophilosophy in the late 1960s and early 1970s. In this volume, he responds with autobiographical and philosophical reflection to the dialogue and controversy he has provoked. He discusses the ideas, rooted in the work of such thinkers as Husserl and Hountondji's former teachers Derrida, Althusser, and Ricoeur, that helped shape his critique.

Applying his philosophical ideas to the critical issues of democracy, culture, and development in Africa today, he addresses three crucial topics: the nexus between scientific extraversion and economic dependence; the nature of endogenous traditions of thought and their relationship with modern science; and the implications—for political pluralism and democracy—of the emergence of "philosophies of subject" in Africa.

While the book's immediate concern is with Africa, the densely theoretical nature of its analyses, and its bearing on current postmodern theories of the "other," will make this timely and elegant translation of great interest to many disciplines, especially ethnic, gender, and multicultural studies.
About the Author
Paulin J. Hountondji, agrégé de philosophie from the Ecole normale supérieure of Rue d'Ulm in Paris, is a professor of philosophy at the National University of Benin. He is the author of Philosophy: Myth and Reality, one of the most influential books on African philosophy. John Conteh-Morgan is a professor in the department of French and Italian and African and African-American Studies at Ohio State University.
Praise For The Struggle For Meaning: Reflections on Philosophy, Culture, and Democracy in Africa (Ohio RIS Africa Series #78)…
"As an object of philosophical discourse, Africa has been constructed, indeed invented according to some, as the 'Other' of thought, reason, and history. Today, Africa itself is the site of origin of plural and open discourses on its ancient traditions of thought, modes of knowledge, and on the inexhaustible meanings of the discipline of philosophy … Paulin Hountondji, whose African Philosophy: Myth and Reality had a considerable impact on African Studies in general, has played an important role in the critical framing and conceptualization of these issues and discourses. In The Struggle for Meaning, he returns to a personal, intellectual itinerary of exemplary value, not for reasons of memory, but for the future; above all for the task of unblocking the horizon, of inscribing issues of identity and culture on a platform of action: notably that of the re-appropriation of the sciences."—Souleymane Bachir Diagne, Professor of Philosophy, Northwestern University