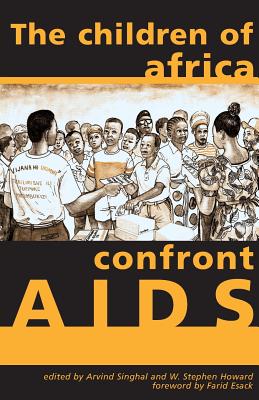 Children Of Africa Confront AIDS (Paperback)
From Vulnerability To Possibility (Ohio RIS Africa Series #80)
Ohio University Press, 9780896802322, 296pp.
Publication Date: October 28, 2003
* Individual store prices may vary.
Description
 AIDS is now the leading cause of death in Africa, where twenty-eight million people are HIV-positive, and where some twelve million children have lost one or both parents to AIDS. In Zimbabwe, 45 percent of children under the age of five are HIV-positive, and the epidemic has shortened life expectancy by twenty-two years. A fifteen-year-old in Botswana or South Africa has a one-in-two chance of dying of AIDS. AIDS deaths are so widespread in sub-Saharan Africa that small children now play a new game called "Funerals."

The Children of Africa Confront AIDS depicts the reality of how African children deal with the AIDS epidemic, and how the discourse of their vulnerability affects acts of coping and courage. A project of the Institute for the African Child at Ohio University, The Children of Africa Confront AIDS cuts across disciplines and issues to focus on the world's most marginalized population group, the children of Africa.

Editors Arvind Singhal and Stephen Howard join conversations between humanitarian and political activists and academics, asking, "What shall we do?" Such discourse occurs in African contexts ranging from a social science classroom in Botswana to youth groups in Kenya and Ghana. The authors describe HIV/AIDS in its macro contexts of vulnerable children and the continent's democratization movements and also in its national contexts of civil conflict, rural poverty, youth organizations, and agencies working on the ground.

Singhal, Howard, and other contributors draw on compelling personal experience in descriptions of HIV/AIDS interventions for children in difficult circumstances and present thoughtful insights into data gathered from surveys and observations concerning this terrible epidemic.
About the Author
A presidential research scholar and professor of interpersonal communication at Ohio University, Arvind Singhal is the author of Combating AIDS: Communication Strategies in Action and Entertainment-Education: A Communication Strategy for Social Change.
Praise For Children Of Africa Confront AIDS: From Vulnerability To Possibility (Ohio RIS Africa Series #80)…
"A stellar contribution in the best tradition of applied social science while providing a bridgehead into the courageous world of the African orphan."
Philip L. Kilbride — Africa Today