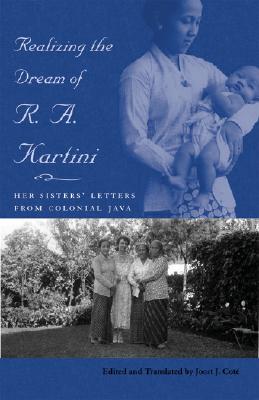 Realizing the Dream of R. A. Kartini (Paperback)
Her Sister's Letters from Colonial Java (Ohio RIS Southeast Asia Series #114)
Ohio University Press, 9780896802537, 304pp.
Publication Date: February 12, 2008
* Individual store prices may vary.
Description
Realizing the Dream of R. A. Kartini: Her Sisters' Letters from Colonial Java presents a unique collection of documents reflecting the lives, attitudes, and politics of four Javanese women in the early twentieth century. Joost J. Coté translates the correspondence between Raden Ajeng Kartini, Indonesia's first feminist, and her sisters, revealing for the first time her sisters' contributions in defining and carrying out her ideals. With this collection, Coté aims to situate Kartini's sisters within the more famous Kartini narrative–and indirectly to situate Kartini herself within a broader narrative.

The letters reveal the emotional lives of these modern women and their concerns for the welfare of their husbands and the success of their children in rapidly changing times. While by no means radical nationalists, and not yet extending their horizons to the possibility of an Indonesian nation, these members of a new middle class nevertheless confidently express their belief in their own national identity.

Realizing the Dream of R. A. Kartini is essential reading for scholars of Indonesian history, providing documentary evidence of the culture of modern, urban Java in the late colonial era and an insight into the ferment of the Indonesian nationalist movement in which these women and their husbands played representative roles.
About the Author
Joost J. Coté is a senior lecturer in history at Deakin University, Melbourne, Australia. He is the author of On Feminism and Nationalism: Kartini's Letters to Stella Zeehandelaar and coeditor of Recalling the Indies: Colonial Memories and Postcolonial Identities.
Praise For Realizing the Dream of R. A. Kartini: Her Sister's Letters from Colonial Java (Ohio RIS Southeast Asia Series #114)…
"Joost Coté presents what is probably the last of the Kartini-related letters extant . . . a precious and unique resource. The translations are first-class, and the person who probably knows more about Kartini and her family than anyone else in the world has edited them."
—William H. Frederick, author of Visions and Heat: The Making of the Indonesian Revolution