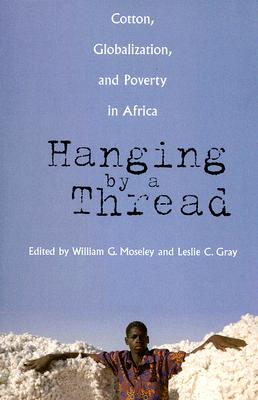 Hanging by a Thread (Paperback)
Cotton, Globalization, and Poverty in Africa (Ohio RIS Global Series #9)
Ohio University Press, 9780896802605, 312pp.
Publication Date: April 1, 2008
* Individual store prices may vary.
Description
The textile industry was one of the first manufacturing activities to become organized globally, as mechanized production in Europe used cotton from the various colonies. Africa, the least developed of the world's major regions, is now increasingly engaged in the production of this crop for the global market, and debates about the pros and cons of this trend have intensified.

Hanging by a Thread: Cotton, Globalization, and Poverty in Africa illuminates the connections between Africa and the global economy. The editors offer a compelling set of linked studies that detail one aspect of the globalization process in Africa, the cotton commodity chain.

From global policy debates, to impacts on the natural environment, to the economic and social implications of this process, Hanging by a Thread explores cotton production in the postcolonial period from different disciplinary perspectives and in a range of national contexts. This approach makes the globalization process palpable by detailing how changes at the macroeconomic level play out on the ground in the world's poorest region. Hanging by a Thread offers new insights on the region in a global context and provides a critical perspective on current and future development policy for Africa.

Contributors: Thomas J. Bassett, Jim Bingen, Duncan Boughton, Brian M. Dowd, Marnus Gouse, Leslie C. Gray, Dolores Koenig, Scott M. Lacy, William G. Moseley, Colin Poulton, Bhavani Shankar, Corinne Siaens, Colin Thirtle, David Tschirley, and Quentin Wodon.
About the Author
William G. Moseley is associate professor of geography at Macalester College. He is the author of Taking Sides: Clashing Views on African Issues and coeditor of The Introductory Reader in Human Geography: Contemporary Debates.
Leslie C. Gray is an associate professor of environmental studies at Santa Clara University. She has published articles on environment and development in journals such as World Development, Africa, African Studies Review, Development and Change, Geoforum, and Geographical Journal.
Praise For Hanging by a Thread: Cotton, Globalization, and Poverty in Africa (Ohio RIS Global Series #9)…
"Moseley and Gray have assembled a uniquely comprehensive picture of the way cotton connects poor farmers, wealthy consumers, activist organizations, industrial giants, and agronomic laboratories. Contributors use commodity chain analysis, national case histories, community scale studies, household production research, and examples of both successes and failures to point to ongoing changes among people, soil, crops, and companies in the global economy. This is more than a book for specialists on Africa; it provides a kaleidoscopic window into the pressing complexities of environment and development."—Paul Robbins, University of Arizona
"Drawing on data from several African countries and localities, the editors should be lauded for the way in which they tie this information into a coherent volume…. I would warmly recommend this book to any student or scholar who is interested in commodity production and livelihoods that are dependent on commodity production."—The Professional Geographer
"This book illuminates key points of power, contention, and uncertainty in African cotton and commodity chains…. (T)hese essays are designed to promote debate, and will be particularly useful for teaching."—International Journal of African Historical Studies
"Because it documents extensively the benefits and drawbacks of cotton for rural areas across Africa, this book will be of great value to students from a variety of disciplinary backgrounds who have an interest in cotton, small-holders, and rural livelihoods."—African Studies Review
"This collection illuminates the connection between Africa and the global economy in a compelling set of linked studies that detail a crucially important aspect of the globalization process in Africa, the cotton commodity chain."—APADE, Indiana University