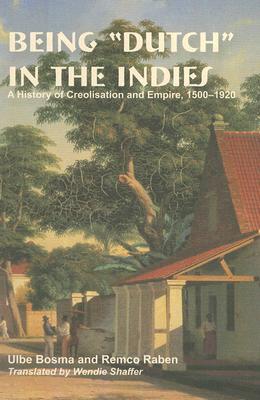 Being "Dutch" in the Indies (Paperback)
A History of Creolisation and Empire, 1500–1920 (Ohio RIS Southeast Asia Series #116)
Ohio University Press, 9780896802612, 288pp.
Publication Date: January 1, 2008
* Individual store prices may vary.
Description
International Convention of Asia Scholars (ICAS) Book Prize
Shortlist Social Sciences
Being "Dutch" in the Indies portrays Dutch colonial territories in Asia not as mere societies under foreign occupation but rather as a "Creole empire." In telling the story of the Creole empire, the authors draw on government archives, newspapers, and literary works as well as genealogical studies that follow the fortunes of individual families over several generations. They also critically analyze theories relating to culturally and racially mixed communities. The picture of the Indies they develop shatters conventional understandings of colonial rule in Asia.
About the Author
Ulbe Bosma is senior researcher at the International Institute of Social History in Amsterdam.
Remco Raben is senior researcher in Asian history at the Netherlands Institute for War Documentation in Amsterdam and teaches history at Utrecht University.
Praise For Being "Dutch" in the Indies: A History of Creolisation and Empire, 1500–1920 (Ohio RIS Southeast Asia Series #116)…
"This is a book that will give pleasure to many readers, while correcting popular stereotypes and entrenched scholarly assumptions. It can be highly recommended to anyone interested in colonial social history, or wider questions of cultural exchange."—International History Review
"In discussing this important yet underresearched topic, the authors draw heavily on material from Dutch and Indonesian archives, newspapers, and literary works, as well as genealogical studies that trace the fortunes and life histories of individual Indische families over several generations. This allows them to explore the outlook and perspectives of this layered community in vivid detail, as well as the types of engagements, boundaries, and stratifications that existed within their ever-shifting world."—Journal of Asian Studies
"This book embodies history writing at its empirical best.…Bosma and Raben's narrative, richly illustrated with historical detail and dozens of black and white prints and photographs, undermines the prevailing assumptions about the inevitability of white-skinned superiority and the universality of brown-skinned subservience. Instead, the authors emphasize that Dutch colonialism in Asia forged a thoroughly creolized community."—American Historical Review
"Bosma and Raben successfully demonstrate how colonial society could not have functioned without the Indische community, which played key roles in all levels of colonial government, trade, and communication. The Europeans who were raised in the Indi