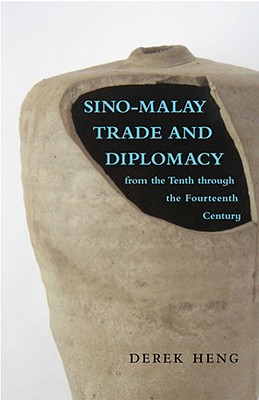 Sino – Malay Trade and Diplomacy from the Tenth through the Fourteenth Century (Ohio RIS Southeast Asia Series #121) (Paperback)
Ohio University Press, 9780896802711, 304pp.
Publication Date: December 22, 2009
* Individual store prices may vary.
Description
China has been an important player in the international economy for two thousand years and has historically exerted enormous influence over the development and nature of political and economic affairs in the regions beyond its borders, especially its neighbors.

Sino–Malay Trade and Diplomacy from the Tenth through the Fourteenth Century examines how changes in foreign policy and economic perspectives of the Chinese court affected diplomatic intercourse as well as the fundamental nature of economic interaction between China and the Malay region, a subregion of Southeast Asia centered on the Strait of Malacca.

This study's uniqueness and value lie in its integration of archaeological, epigraphic, and textual data from both China and Southeast Asia to provide a rich, multilayered picture of Sino–Southeast Asian relations in the premodern era. Derek Heng approaches the topic from both the Southeast Asian and Chinese perspectives, affording a dual narrative otherwise unavailable in the current body of Southeast Asian and China studies literature.
About the Author
Derek Heng is an assistant professor of history at the Ohio State University at Marion. He is the editor of New Perspectives and Sources on the History of Singapore: A Multi-disciplinary Approach.
Praise For Sino – Malay Trade and Diplomacy from the Tenth through the Fourteenth Century (Ohio RIS Southeast Asia Series #121)…
"For too long we have been dependent on inadequate translations of Chinese court records to understand the shifting fortunes of 'kingdoms' and trade centers in Southeast Asia before 1400. Archaeologists have been uncovering new data on the ground at Southeast Asian trade sites, at manufacturing and trade centers in southern China, and in the cargoes of shipwrecks from around the South China Sea. What was needed was to bring these dynamic but very separate fields of research together. Derek Heng has succeeded in turning a 'dark age' into a coherent overall picture of the changes that transformed the Southeast Asian hinge of world commerce over four centuries."
— Anthony Reid, author of Southeast Asia in Age of Commerce, 1450-1680
"It is Heng's treatment of private Chinese enterprise in Southeast Asia which complements the better-covered accounts of state-level tributary trade. This is by far the most comprehensive analysis I have seen—systematically investigating Chinese trade and shipping at a number of levels, intra-regional, large-scale commerce and small-scale, individual traders."
— Malaysian Branch of the Royal Asiatic Society
"What is good about this book lies in the fact that it is well structured, easy to read, and not overloaded with too many details. Heng has clearly moved away from the purely 'philological' to creating a complex historical model for Sino-foreign interaction in the South China Sea—a construction that is fresh in kind and certainly apt to ignite new research along similar lines."
— Journal of Southeast Asian Studies
"This book is a milestone in efforts, championed in recent decades by Anthony Reid and many others, to break down the barriers between the fields of Chinese history and Southeast Asian history."
— International Journal of Maritime History
"Sino-Malay Trade and Diplomacy from the Tenth through the Fourteenth Century is a welcome and important addition to the literature on the history of maritime trade during the first age of global trade. Using a remarkably broad array of sources, from Chinese and Southeast Asian written accounts through the archaeological record (of shipwrecks in particular) to economic sources which he skillfully mines, Professor Heng offers the first comprehensive history of Sino-Malay trade in the pre-European period. This is a notable achievement."
— John W. Chaffee, author of Branches of Heaven: A History of the Imperial Clan of Sung China