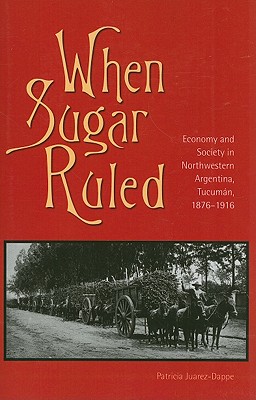 When Sugar Ruled
Economy and Society in Northwestern Argentina, Tucumán, 1876–1916 (Ohio RIS Latin America Series #49)
Paperback

* Individual store prices may vary.
Description
Two tropical commodities—coffee and sugar—dominated Latin American export economies in the nineteenth and early twentieth centuries. When Sugar Ruled: Economy and Society in Northwestern Argentina, Tucumán, 1876–1916 presents a distinctive case that does not quite fit into the pattern of many Latin American sugar economies.

During the last quarter of the nineteenth century, the province of Tucumán emerged as Argentina's main sugar producer, its industry catering almost exclusively to the needs of the national market and financed mostly by domestic capital. The expansion of the sugar industry provoked profound changes in Tucumán's economy as sugar specialization replaced the province's diversified productive structure. Since ingenios relied on outside growers for the supply of a large share of the sugarcane, sugar production did not produce massive land dispossession and resulted in the emergence of a heterogeneous planter group. The arrival of thousands of workers from neighboring provinces during the harvest season transformed rural society dramatically. As the most dynamic sector in Tucumán's economy, revenues from sugar enabled the provincial government to participate in the modernizing movement sweeping turn-of-the-century Argentina.

Patricia Juarez-Dappe uncovers the unique features that characterized sugar production in Tucumán as well as the changes experienced by the province's economy and society between 1876 and 1916, the period of most dramatic sugar expansion. When Sugar Ruled is an important addition to the literature on sugar economies in Latin America and Argentina.
Praise For When Sugar Ruled: Economy and Society in Northwestern Argentina, Tucumán, 1876–1916 (Ohio RIS Latin America Series #49)…
"The most comprehensive work that I have read for the early history of sugar in Tucumán. This is a solid piece of scholarship, one with lasting value."—James Brennan, University of California, Riverside

"While this is undoubtedly an excellent portrait of a specific region, it at the same time succeeds in achieving a more universal appeal, for all those concerned with the history of sugar and the impact of commodities on local and regional lives."—Bulletin of Latin American Research
Ohio University Press, 9780896802742, 248pp.
Publication Date: March 6, 2010
About the Author
Patricia Juarez-Dappe is an associate professor of Latin American history at California State University, Northridge.