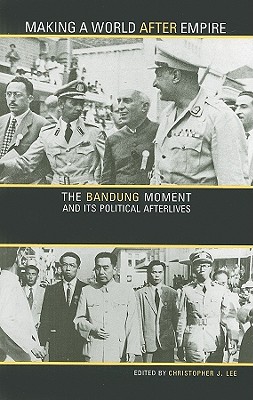 Making a World after Empire
The Bandung Moment and Its Political Afterlives (Ohio RIS Global Series #11)
Paperback

* Individual store prices may vary.
Other Editions of This Title:
Paperback (8/19/2019)
Description
Short-listed for the 2015 Asia-Africa Book Prize (ICAS)
Winner of the 2010 Ali Sastroamidjojo Award
An AfricaFocus 2011 New and Notable Book
A CHOICE Significant University Press Title for Undergraduates, 2010–11
In April 1955, twenty-nine countries from Africa, Asia, and the Middle East came together for a diplomatic conference in Bandung, Indonesia, intending to define the direction of the postcolonial world. Representing approximately two-thirds of the world's population, the Bandung conference occurred during a key moment of transition in the mid-twentieth century—amid the global wave of decolonization that took place after the Second World War and the nascent establishment of a new cold war world order in its wake. Participants such as Jawaharlal Nehru of India, Gamal Abdel Nasser of Egypt, Zhou Enlai of China, and Ahmed Sukarno of Indonesia seized this occasion to attempt the creation of a political alternative to the dual threats of Western neocolonialism and the cold war interventionism of the United States and the Soviet Union.

The essays in this volume explore the diverse repercussions of this event, tracing the diplomatic, intellectual, and sociocultural histories that have emanated from it. Making a World after Empire consequently addresses the complex intersection of postcolonial history and cold war history and speaks to contemporary discussions of Afro-Asianism, empire, and decolonization, thus reestablishing the conference's importance in twentieth-century global history.

Contributors: Michael Adas, Laura Bier, James R. Brennan, G. Thomas Burgess, Antoinette Burton, Dipesh Chakrabarty, Julian Go, Christopher J. Lee, Jamie Monson, Jeremy Prestholdt, Denis M. Tull
Praise For Making a World after Empire: The Bandung Moment and Its Political Afterlives (Ohio RIS Global Series #11)…
"Readers interested in Bandung can do no better than consult the volume of essays edited by Christopher Lee, Making a World After Empire."—Pankaj Mishra, author of From the Ruins of Empire: The Intellectuals Who Remade Asia
"This important collection of essays points to a phenomenon that has been lost in the common assumption of a worldwide movement from colonial empires to nation-states: the richer imagination of people in those empires and their quest for alternative modes of political connection."—Frederick Cooper, author of Colonialism in Question: Theory, Knowledge, History
"(Making a World after Empire) is a welcome addition to the literature on the Bandung Conference."—Tan See Seng, Comparativ
"This is a very readable and useful collection of essays shaped around the ideals and challenges that formed the 'Bandung Spirit.' The publisher, Ohio University Press, permitted inclusion of both a combined bibliography and a cumulative index, rather a rarity amongst anthologies these days. It should be of greatest interest to collections on development politics, the modern Global South, international relations, post-colonial studies, and modern Asian and African studies."—Canadian Journal of History
"The Bandung Conference, when it is recalled at all, is usually both romanticized and misremembered. This splendid collection returns us to the historical record with a combination of empirical and conceptual essays that speak to the meaning of Bandung at the time and thereafter. It is transnational, postcolonial, and, even more important, exciting history that speaks to our complex political present. Christopher Lee has edited an essential volume for anyone interested in the world in the wake of World War II."—Marilyn B. Young, author of Iraq and the Lessons of Vietnam
"Making a World after Empire is an innovative and challenging collection of essays that investigates the political and cultural intersections of Africa and Asia in the second half of the twentieth century. These varied case studies in the emerging field of postcolonial Afro-Asianism—some empirical, others conceptual—open fresh ways of thinking about relationships across the Indian Ocean and beyond. Taking the 1955 Bandung Conference as their point of entry, the pathbreaking studies presented probe an exciting area of multinodal political connections. They will stimulate new debate and writing about the postcolonial world, the Indian Ocean region, and Afro-Asian relations for some time to come."
— Pier M. Larson, Professor of African and Indian Ocean History, Johns Hopkins University
Ohio University Press, 9780896802773, 400pp.
Publication Date: June 15, 2010
About the Author
Christopher J. Lee is the author of Frantz Fanon: Toward a Revolutionary Humanism, and Unreasonable Histories: Nativism, Multiracial Lives, and the Genealogical Imagination in British Africa and the editor of Making a World after Empire: The Bandung Moment and Its Political Afterlives. He is an associate professor of history at Lafayette College.