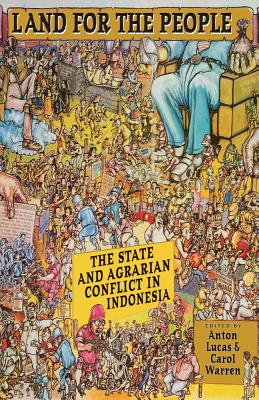 Land for the People (Paperback)
The State and Agrarian Conflict in Indonesia (Ohio RIS Southeast Asia Series #126)
Ohio University Press, 9780896802872, 408pp.
Publication Date: June 18, 2013
* Individual store prices may vary.
Description
Half of Indonesia's massive population still lives on farms, and for these tens of millions of people the revolutionary promise of land reform remains largely unfulfilled. The Basic Agrarian Law, enacted in the wake of the Indonesian Revolution, was supposed to provide access to land and equitable returns for peasant farmers. But fifty years later, the law's objectives of social justice have not been achieved.

Land for the People provides a comprehensive look at land conflict and agrarian reform throughout Indonesia's recent history, from the roots of land conflicts in the prerevolutionary period, and the Sukarno and Suharto regimes, to the present day, in which democratization is creating new contexts for peoples' claims to the land. Drawing on studies from across Indonesia's diverse landscape, the contributors examine some of the most significant issues and events affecting land rights, including shifts in policy from the early postrevolutionary period to the New Order; the Land Administration Project that formed the core of land policy during the late New Order period; a long-running and representative dispute over a golf course in West Java that pitted numerous indigenous farmers in Kalimantan against the urban elite; Suharto's notorious "million hectare" project that resulted in loss of access to land and resources for numerous farmers; and the struggle by Bandung's urban poor to be treated equitably in the context of commercial land development. Together, these essays provide a critical resource for understanding one of Indonesia's most pressing and most influential issues.

Contributors: Afrizal, Dianto Bachriadi, Anton Lucas, John McCarthy, John Mansford Prior, Gustaaf Reerink, Carol Warren, and Gunawan Wiradi.
About the Author
Anton Lucas is an adjunct associate professor in the School of International Studies at Flinders University of South Australia. He is the author One Soul One Struggle: Region and Revolution in Indonesia, and editor of Radikalisme Lokal.

Carol Warren is a Fellow of the Asia Research Centre at Murdoch University, Australia. Her publications include Adat and Dinas: Balinese Communities in the Indonesian State, and, as coeditor with John F. McCarthy, Community, Environment and Local Governance in Indonesia.
Praise For Land for the People: The State and Agrarian Conflict in Indonesia (Ohio RIS Southeast Asia Series #126)…
"The book promises to put agrarian studies, and land reform in particular, back on the social science agenda for Indonesia area specialists…. This will be the major reference on this topic for a considerable time to come."
— Gerry van Klinken, Royal Netherlands Institute of Southeast Asian and Caribbean Studies
"…(Land for the People) is essential reading for anyone interested in the land, the environment, and agrarian livelihood in Indonesia…this book is second to none in its field. It's importance, however, goes beyond Indonesia in an era where global forces present new pressures for those trying to retain access to land…for achieving social justice.'
— Aseusuk News
"The book sets out to show the experience of the Indonesian people with [the Basic Agrarian Law] and its implementation over decades, but ultimately achieves something greater—the book shows through its cases how governments may lose legitimacy by ignoring the public's need for sustenance, opportunity and hope. …This is an intensely interesting read for those curious about a telling aspect of Indonesian political/legal history, where it intersects agrarian policy and land tenure issues."
—International Journal of Rural Management
"Land For the People is an illuminating collection that deals with an expansive subject. … Above all, [it] reminds us of the centrality of land issues in developing countries generally—where the majority lives from the land—and of the unfortunate history of Southeast Asian countries' failure to grapple effectively with land policy." —Bulletin of Indonesian Economic Studies 
or
Not Currently Available for Direct Purchase