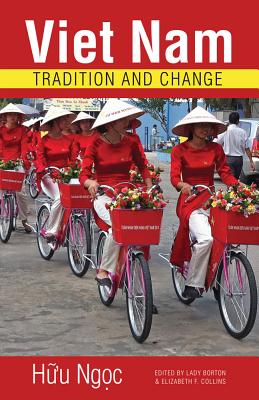 Viet Nam (Paperback)
Tradition and Change (Ohio RIS Southeast Asia Series #128)
Ohio University Press, 9780896803022, 386pp.
Publication Date: August 15, 2016
Other Editions of This Title:
Hardcover (8/15/2016)
* Individual store prices may vary.
Description
Named a Choice Reviews Outstanding Academic Title for 2017
During his twenty-year tenure as a columnist for Việt Nam News, Hà Nội's English-language newspaper, Hữu Ngọc charmed and invigorated an international readership hungry for straightforward but elegant entrees into understanding Vietnamese culture. The essays were originally collected in the massive Wandering through Vietnamese Culture. With Viet Nam: Tradition and Change, Ohio University Press presents a selection from these many treasures, which are perfectly suited to students of Vietnamese culture and travelers seeking an introduction to the country's rich history, culture, and daily life.

With extraordinary linguistic ability and a prodigious memory, Hữu Ngọc is among Việt Nam's keenest observers of and writers about traditional Vietnamese culture and recent history. The author's central theme—that all tradition is change through acculturation—twines through each of the book's ten sections, which contain Hữu Ngọc's ideas on Vietnamese religion, literature, history, exemplary figures, and more. Taken on its own, each brief essay is an engaging discussion of key elements of Vietnamese culture and the history of an issue confronting Việt Nam today.
About the Author
Hữu Ngọc (1918–) is retired director of Việt Nam's foreign languages publishing house and editor of Vietnamese Studies, Hà Nội's semi-scholarly quarterly published since 1964. His Sunday newspaper columns remain reader favorites. During the past twenty years, Hữu Ngọc's lecture, "3,000 Years of Vietnamese History in One Hour," has entranced 20,000 foreign visitors to Việt Nam.
Praise For Viet Nam: Tradition and Change (Ohio RIS Southeast Asia Series #128)…
"Việt Nam offers a sweeping introduction to Vietnamese history and culture through a collection of essays selected from Wandering through Vietnamese Culture (2004 … [It] moves from the ancient to the colonial to the contemporary, runs the cultural gamut from village puppetry to classical opera, and details cultural, linguistic, regional, and biographical histories. It both promotes and creates the idea of a national culture, which Hữu Ngọc considers essential to Vietnam's past and future. Summing up: Essential."—CHOICE
"Hữu Ngọc is an engaging and brilliant writer, and the brevity of his vignettes are just enough to spark an interest in the topic for a reader unfamiliar with the material. Even scholars of Vietnam will find something to learn in this volume."—Wynn Gadkar-Wilcox, Pacific Affairs