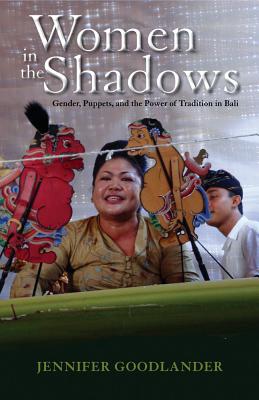 Women in the Shadows (Paperback)
Gender, Puppets, and the Power of Tradition in Bali (Ohio RIS Southeast Asia Series #129)
Ohio University Press, 9780896803046, 216pp.
Publication Date: October 31, 2016
Other Editions of This Title:
Hardcover (10/31/2016)
* Individual store prices may vary.
Description
Wayang kulit, or shadow puppetry, connects a mythic past to the present through public ritual performance and is one of most important performance traditions in Bali. The dalang, or puppeteer, is revered in Balinese society as a teacher and spiritual leader. Recently, women have begun to study and perform in this traditionally male role, an innovation that has triggered resistance and controversy.
In Women in the Shadows, Jennifer Goodlander draws on her own experience training as a dalang as well as interviews with early women dalang and leading artists to upend the usual assessments of such gender role shifts. She argues that rather than assuming that women performers are necessarily mounting a challenge to tradition, "tradition" in Bali must be understood as a system of power that is inextricably linked to gender hierarchy.
She examines the very idea of "tradition" and how it forms both an ideological and social foundation in Balinese culture. Ultimately, Goodlander offers a richer, more complicated understanding of both tradition and gender in Balinese society. Following in the footsteps of other eminent reflexive ethnographies, Women in the Shadows will be of value to anyone interested in performance studies, Southeast Asian culture, or ethnographic methods.
About the Author
Jennifer Goodlander is an assistant professor in the Department of Theatre, Drama, and Dance at Indiana University. She has performed Balinese shadow puppetry in China, Indonesia, and around the United States. Her research focuses on the relationship between tradition and modernity as expressed through puppetry in Southeast Asia.
Praise For Women in the Shadows: Gender, Puppets, and the Power of Tradition in Bali (Ohio RIS Southeast Asia Series #129)…
"Goodlander presents an intimate, detailed account of her studies to become a dalang, contextualizing her experiences with those of the few Balinese women dalangs. She contends that this incursion must ultimately be perceived within the gendered power systems of Balinese culture. Summing up: Recommended."—CHOICE
"[Women in the Shadows] is an exceptional and very personal work filled with rich insights on ritual process, wayang narratives, puppet characters, and Balinese culture in general. Goodlander has produced a short, though substantial, work tha
"The question of what impact women performing the wayang kulit has on gender dynamics in Balinese society is satisfyingly answered by the thoughtfully considered and richly informed analysis that permeates this book…[addressing] performance innovations that seemingly disrupt centuries of tradition yet equally gratify the desire for novelty— and, in doing so, much is revealed about the nature of transformation, balance, gender, and culture in Bali."—Beth Onses, Theatre Survey
"This groundbreaking study explores the unusual position of a handful of women dalang (puppeteers) in Bali, including Goodlander herself…Professor Goodlander's knowledge, experience, and caring for her subject matter comes through on every page."—Linda Ehrich, Puppetry International
"Jennifer Goodlander's book is an important contribution to our understanding of the Balinese wayang kulit. It provides readers with valuable insights into the remarkable experience of one foreign woman who trained and was consecrated to perform the wayang kulit and expecially of the controversy which continues to surround the practice of Balinese women as dalang."—Archipel