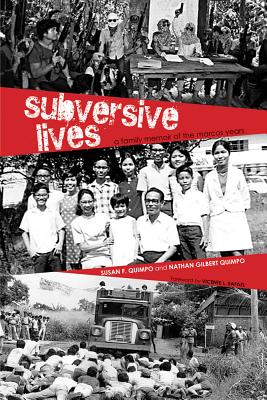 Subversive Lives
A Family Memoir of the Marcos Years (Ohio RIS Southeast Asia Series #130)
Paperback

* Individual store prices may vary.
Other Editions of This Title:
Hardcover (7/29/2016)
Description
From the 1960s to the 1990s, seven members of the Quimpo family dedicated themselves to the anti-Marcos resistance in the Philippines, sometimes at profound personal cost. In this unprecedented memoir, eight siblings (plus one by marriage) tell their remarkable stories in individually authored chapters that comprise a family saga of revolution, persistence, and, ultimately, vindication, even as easy resolution eluded their struggles.
Subversive Lives tells of attempts to smuggle weapons for the New People's Army (the armed branch of the Communist Party of the Philippines); of heady times organizing uprisings and strikes; of the cruel discovery of one brother's death and the inexplicable disappearance of another (now believed to be dead); and of imprisonment and torture by the military. These stories show the sacrifices and daily heroism of those in the movement. But they also reveal its messy legacies: sons alienated from their father; daughters abused by the military; friends betrayed; and revolutionary affection soured by intractable ideological differences.
The rich and distinctive contributions span the martial law years of Ferdinand Marcos's rule. Subversive Lives is a riveting and accessible primer for those unfamiliar with the era, and a resonant history for those with a personal connection to what it meant to be Filipino at that time, or for anyone who has fought political repression.
Ohio University Press, 9780896803060, 512pp.
Publication Date: July 29, 2016
About the Author
Susan F. Quimpo is an art therapist and counselor. Besides her private practice, she works with civil society groups to help alleviate trauma in communities affected by typhoons and war, and provides therapy to political prisoners and victims of human rights violations. She also writes for Philippine news publications.
Nathan Gilbert Quimpo, a longtime political activist in the Philippines, is an associate professor of political science and international relations at the University of Tsukuba, Japan. He is the author of Contested Democracy and the Left in the Philippines after Marcos.