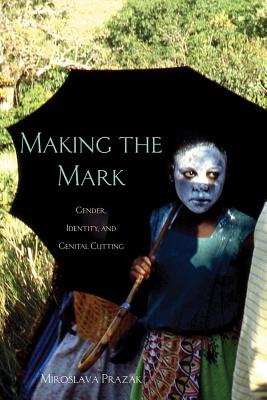 Making the Mark (Paperback)
Gender, Identity, and Genital Cutting (Ohio RIS Africa Series #93)
Ohio University Press, 9780896803107, 332pp.
Publication Date: September 15, 2016
Other Editions of This Title:
Hardcover (9/15/2016)
* Individual store prices may vary.
Description
Why do female genital cutting practices persist? How does circumcision affect the rights of girls in a culture where initiation forms the lynchpin of the ritual cycle at the core of defining gender, identity, and social and political status? In Making the Mark, Miroslava Prazak follows the practice of female circumcision through the lives and activities of community members in a rural Kenyan farming society as they decide whether or not to participate in the tradition.

In an ethnography twenty years in the making, Prazak weaves multiple Kuria perspectives—those of girls, boys, family members, circumcisers, political and religious leaders—into a riveting account. Though many books have been published on the topic of genital cutting, this is one of the few ethnographies to give voice to evolving perspectives of practitioners, especially through a period of intense anticutting campaigning on the part of international NGOs, local activists, and donor organizations. Prazak also examines the cultural challenges that complicate the human-rights anti-FGM stance.

Set in the rolling hills of southwestern Kenya, Making the Mark examines the influences that shape and change female genital cutting over time, presenting a rich mosaic of the voices contributing to the debate over this life-altering ritual.
About the Author
Miroslava Prazak is a scholar of economic development and cultural change in East Africa. Employing multidisciplinary research strategies, her work addresses globalization; inequality; social, health, and human rights issues; culturally based ways of knowing; gender-based violence; and politics of the body. She teaches anthropology and African studies at Bennington College.
Praise For Making the Mark: Gender, Identity, and Genital Cutting (Ohio RIS Africa Series #93)…
"Gritty ethnography at its best. Descriptively rich and insightful, it does an excellent job of helping readers gain an understanding of insider perspectives on the practice of female genital cutting, and the socially embedded context of these meanings."—Bettina Shell-Duncan, coeditor of Transcultural Bodies: Female Genital Cutting in Global Context
"Making the Mark provides a richly detailed grass-roots perspective of the procedure (and of male circumcision) among the Kuria people in southern Kenya.…While Prazak's book examines female genital cutting only among one population in Kenya, it provides a model for understanding the grass-roots dynamics shaping the practice. …Whatever one's opinion, [Prazak] demonstrates the value and importance of seeing the practice through the perspectives of girls, their families and leaders in their communities."—Kim Yi Dionne, Washington Post online
"Although many books and articles have been published on this topic in the past two decades, Making the Mark contributes greatly to the literature on genital cutting. …An absolute must-read for those who wish to gain an understanding in the complexities of genital cutting in the social, political, and cultural life of Kuria people in Kenya."—Africa at LSE
"Prazak provides a richly detailed ethnographic account of the changing practices and understandings of circumcision—both male and female—among the Kuria people of southern Kenya..…A readable, on-the-ground account … Prazak writes clearly and skillfully incorporates arguments from the anthropology of ritual, the anthropology of law, and development studies in a way that will be accessible to students at different levels.…Summing Up: Recommended."—CHOICE