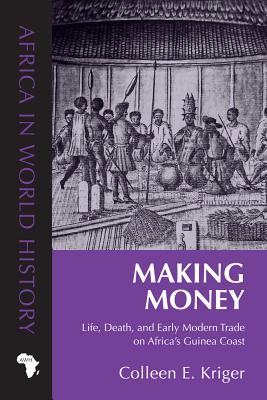 Making Money (Hardcover)
Life, Death, and Early Modern Trade on Africa's Guinea Coast (Africa in World History)
Ohio University Press, 9780896803152, 254pp.
Publication Date: October 16, 2017
Other Editions of This Title:
Paperback (10/16/2017)
* Individual store prices may vary.
Description
A new era in world history began when Atlantic maritime trade among Africa, Asia, Europe, and the Americas opened up in the fifteenth century, setting the stage for massive economic and cultural change. In Making Money, Colleen Kriger examines the influence of the global trade on the Upper Guinea Coast two hundred years later—a place and time whose study, in her hands, imparts profound insights into Anglo-African commerce and its wider milieu.

A stunning variety of people lived in this coastal society, struggling to work together across deep cultural divides and in the process creating a dynamic creole culture. Kriger digs further than any previous historian of Africa into the records of England's Royal African Company to illuminate global trade patterns, the interconnectedness of Asian, African, and European markets, and—most remarkably—the individual lives that give Making Money its human scale.

By inviting readers into the day-to-day workings of early modern trade in the Atlantic basin, Kriger masterfully reveals the rich social relations at its core. Ultimately, this accessible book affirms Africa's crucial place in world history during a transitional period, the early modern era.
About the Author
Colleen E. Kriger is a professor of history at the University of North Carolina at Greensboro. She has received numerous grants and fellowships in support of her research. Her scholarship focuses on precolonial West and West Central Africa and topics such as social history, artisans, oral history, and material culture.
Praise For Making Money: Life, Death, and Early Modern Trade on Africa's Guinea Coast (Africa in World History)…
"Kriger's archival excavations uncover a wealth of previously untapped detail which present the lives and engagement of Atlantic African individuals from Guinea in an entirely new light.…By humanizing too the political actors, traders, and captives produced by the Atlantic system in Africa, Kriger brings the current fashion in Atlantic studies for microhistories to bear on the Guinea region for an earlier period than usual. There's no doubt that this book should be a standard feature on course curricula for many years to come."—Toby Green, African Studies Review
"In this wonderfully researched book, Colleen Kriger anchors the coastal activity of the Europeans in the African cultures they met, making them only one set of many actors in a society that had to marry widely different economic cultures into a workable system. This book will open a new chapter and discussion about the nature of African relationships with Europeans."—John K. Thornton, author of A Cultural History of the Atlantic World, 1250–1820
"Colleen Kriger's new study … deserves attention for its innovative reading of British archival sources and its rich array of evidence.… One value of this study for non-specialists lies in the ways Kriger picks apart simplistic notions of barter economies by noting the shifting value and composition of bundles of goods.… Still another innovation is the attention to how coastal African women tried and often succeeded in protecting their economic interests."—Jeremy Rich, Canadian Journal of History
"Extending a tradition of scholarship dating to Walter Rodney, Kriger places production and exchange in late-seventeenth-century Upper Guinea in their global context while opening a window on the fascinating local, regional, and personal relationships that supported the activity. Carefully documented and clearly written, Making Money is ready for classroom use."—Donald R. Wright, author of The World and a Very Small Place in Africa: A History of Globalization in Niumi, The Gambia
"Kriger provides intimate and beautifully documented portraits of life, death, and commerce among men and women of the Guinea coast in the 1600s, as visitors from England and the African interior shared in the tumultuous trade of material goods and human captives."—Patrick Manning, author of The African Diaspora: A History through Culture
or
Not Currently Available for Direct Purchase