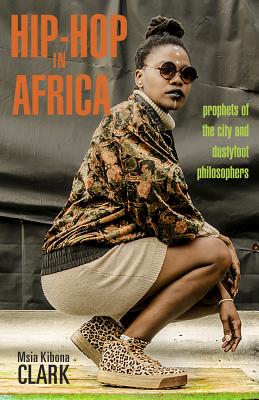 Hip-Hop in Africa (Paperback)
Prophets of the City and Dustyfoot Philosophers (Ohio RIS Global Series)
Ohio University Press, 9780896803190, 312pp.
Publication Date: April 30, 2018
Other Editions of This Title:
Hardcover (4/30/2018)
* Individual store prices may vary.
Description
Throughout Africa, artists use hip-hop both to describe their lives and to create shared spaces for uncensored social commentary, feminist challenges to patriarchy, and resistance against state institutions, while at the same time engaging with the global hip-hop community. In Hip-Hop in Africa, Msia Kibona Clark examines some of Africa's biggest hip-hop scenes and shows how hip-hop helps us understand specifically African narratives of social, political, and economic realities.

Clark looks at the use of hip-hop in protest, both as a means of articulating social problems and as a tool for mobilizing listeners around those problems. She also details the spread of hip-hop culture in Africa following its emergence in the United States, assessing the impact of urbanization and demographics on the spread of hip-hop culture.

Hip-Hop in Africa is a tribute to a genre and its artists as well as a timely examination that pushes the study of music and diaspora in critical new directions. Accessibly written by one of the foremost experts on African hip-hop, this book will easily find its place in the classroom.
About the Author
Msia Kibona Clark is an assistant professor in the Department of African Studies at Howard University. She has been writing about and photographing African hip-hop culture since 2009.
Praise For Hip-Hop in Africa: Prophets of the City and Dustyfoot Philosophers (Ohio RIS Global Series)…
This Pan-African project is a thoughtful synthesis of the variouship-hop making practices in African communities across the continent. It is highlyrecommended for popular cultural scholars, hip-hop heads, and the culturalproducers in hip-hop communities. Indeed, Clark's book reads in an accessiblemanner which demonstrates her critical understanding of how academicknowledge production is often confined behind academic walls and trappedin dense academese rendering it inaccessible to the communities we makeknowledge with….This project cements Clark's commitment to publicly engaged scholarship and toensuring that writing about hip-hop is also part of the cultural production of thecommunity.—Contemporary Journal of African Studies
"Remarkably well-conceived … [Clark] adeptly covers a wide range of issues in African hip-hop—its role in political protest, the rise of feminist MCs and the effects of migration on cultural production—without forgoing depth in favor of breadth.…There [are] no bling or fast cars here but the stories within shine bright, illuminating the variegated and effusive scenes across Africa."—Songlines
"What Clark does especially well is creating a dialogue in each chapter, giving…insight into how each factor, such as language, is approached differently across different parts of the continent, but then also how they come into dialogue with each other and present different [viewpoints] to the rest of the world. It's an incredibly rich and dense text, just packed with information, but also very accessible and easy to understand."—Scratched Vinyl
"This is a very important [study]. To say that I learned a lot about the artists and their music … and the intricacies of hip hop music and culture would be an understatement; I came away having totally enhanced my own pop culture credibility.