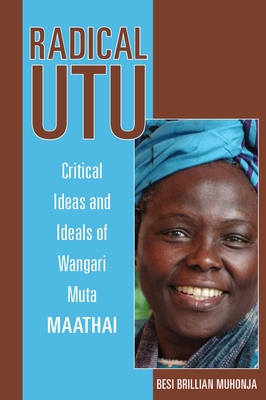 Radical Utu (Paperback)
Critical Ideas and Ideals of Wangari Muta Maathai (Ohio RIS Africa Series)
Ohio University Press, 9780896803268, 170pp.
Publication Date: June 9, 2020
* Individual store prices may vary.
Description
Wangari Muta Maathai was a scholar-activist known for founding the Green Belt Movement, an environmental campaign that earned her the Nobel Peace Prize. While many studies of Maathai highlight her activism, few examine Maathai as a scholar whose contributions to various disciplines and causes spanned more than three decades.
In Radical Utu: Critical Ideas and Ideals of Wangari Muta Maathai, Besi Brillian Muhonja presents the words and works of Maathai as theoretical concepts attesting to her contributions to gender equality, democratic spaces, economic equity and global governance, and indigenous African languages and knowledges. Muhonja's well-rounded portrait of Maathai's ideas offers a corrective to the one-dimensional characterization of Maathai typical of other works.
About the Author
Besi Brillian Muhonja is associate professor of women's, gender, and sexuality studies and African, African American, and diaspora studies in the Department of English at James Madison University.
Praise For Radical Utu: Critical Ideas and Ideals of Wangari Muta Maathai (Ohio RIS Africa Series)…
"In this loving, well-researched, and beautifully written book, Besi Brillian Muhonja brings out the other side of the distinguished environmentalist and Nobel laureate, Wangari Muta Maathai—that of thinker and activist scholar. By focusing on the philosophical and theoretical legacies of Maathai's work, the book takes us beyond the controversies and headlines to provide a powerful analysis of the philosophical thinking that drove her activism. Radical Utu is a model of how to prioritize African thinkers in the production of global knowledge."—Simon Gikandi, Robert Schirmer Professor of English, Princeton University
"This is a brilliant articulation of Nobel laureate Wangari Muta Maathai's philosophy of holistic environmentalism that is unapologetically rooted in radical utu, a philosophy of personhood that drives the rebalancing of power in societies. Muhonja applies the epistemological strategy of critical decolonial thinking to render visible the superb powerful thinker that is Wangari Maathai, who conceptually moved our comprehension of the self to a transgendered place where ecology revivifies humanity only if we, in turn, tend to its healing transformational powers."—Nkiru Nzegwu, SUNY Distinguished Professor, Binghamton University