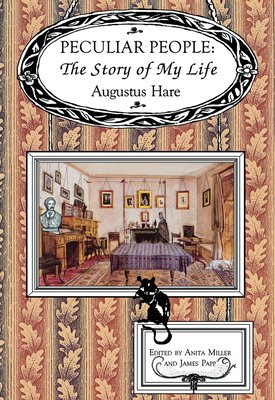 Peculiar People (Paperback)
The Story of My Life
Academy Chicago Publishers, 9780897335492, 303pp.
Publication Date: October 1, 2006
* Individual store prices may vary.
Praise For Peculiar People: The Story of My Life…
"How can you not like a memior entitled 'Peculiar People,' especially when its author proves no less peculiar than the assortment of English oddities he memorializes?"

-- Patricia T. O'Connor, New York Times Book Review
"This is a charmingly illustrated volume ... Hare was probably a prig, a snob, and probably a crashing bore, but this book is riveting."
-- The New Yorker
From Publishers Weekly

This engrossing, one-volume autobiography of Victorian writer Augustus John Cuthbert Hare (1834-1903) has been edited by Miller, publisher of Academy Chicago, and Papp, a freelance writer, to retain the distinctive flavor of the original six-volume edition, published from 1896 to 1900. Hare dramatically recounts a childhood so horrible, it is amazing he survived. As an infant he was given away by his upper-class English parents to his Aunt Maria, who placed him for much of his early years in the care of an Uncle Julius and Aunt Esther, who starved and beat him. He finally escaped by attending Oxford and then, as a young man, traveled with and cared for Maria until her death. She repaid him by depriving him of his fortune. Until he reclaimed his estate, he made a living by writing travel guides. A born storyteller, Hare vividly describes his travels and the unusual people he met as well as shares his favorite supernatural tales. Illustrations.
Copyright 1995 Reed Business Information, Inc.  
From Library Journal

Hare's autobiography first appeared between 1896 and 1900 in six volumes totaling some 750,000 words. Malcolm Barnes produced a handsome, two-volume abridgment (1952-53), unhappily out of print, but the work now resurfaces in further abridgment. What the Nation wrote in 1901 remains true: "For future students of the social life of England in Victoria's reign, Mr. Hare has written an invaluable memoir." Hare was related to-and apparently visited-half the English peerage and met most of the leading literary figures of the day. Well traveled and deeply read, he was a keen observer and recorder, with both pen and brush, of the upper-class circles in which he moved. He loved ghost stories, many of which are recounted here. Barnes's edition is more generous with text, illustrations, and notes; but the present volume is attractive and may lead its readers to learn more about a fascinating figure.
Joseph Rosenblum, Guilford Technical Community Coll., Jamestown, N.C.
Copyright 1994 Reed Business Information, Inc.
or
Not Currently Available for Direct Purchase