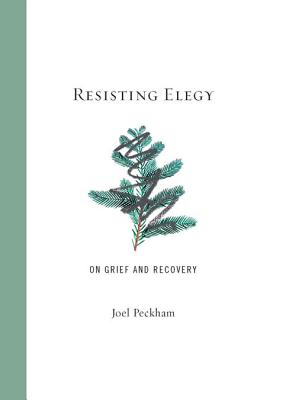 Resisting Elegy (Hardcover)
On Grief and Recovery
Academy Chicago Publishers, 9780897336253, 144pp.
Publication Date: April 3, 2012
* Individual store prices may vary.
Description
In this thoughtful collection of narratives, author Joel Peckham explores the transformative power of emotional and physical pain from the vantage point of a husband and parent who lost his wife and a child in an accident that left him in chronic distress. Along the way, he fills a need for a brutally honest literary examination of not only grief and suffering, but also of recovery.
About the Author
Joel Peckham is a poet, essayist, and literary scholar. He has published three other collections of poetry: The Heat of What Comes and Nightwalking from Pecan Grove Press and Movers and Shakers from Pudding House. His poems have appeared in many literary journals, including The Beloit Poetry Journal, Black Warrior Review, Prairie Schooner, Rattle and The Southern Review. In 2012, his memoir, Resisting Elegy, appeared from Academy Chicago Publishers. Dean Monti is the author of several plays and short stories, and has had his work staged in Chicago and Norfolk, Virginia. As a journalist for a large trade magazine, he has written many feature articles, and has read his work on WBEZ, National Public Radio, in Chicago.
Praise For Resisting Elegy: On Grief and Recovery…
"...Peckham's stories reflect honestly, and often shockingly, on [his] troubled marriage, their cultural differences, and Peckham's rejection of the outside world's expectations for his grief and recovery. Nevertheless, these essays also affirm the love that once existed, and they show a man who "has to be knocked silly" to discover the truth about himself.
...
"Don't tell me how to grieve,"[Peckham] writes back bitterly to a friend who berates him for not visiting his wife's and son's graves oceans away. He can't match what he thinks or feels with what he should think or feel. Other people's stories can only be true if he, too, can be true to them. Thus he must create a new story as truthful as possible.

In the end, death does not wipe out the alienation felt in a marriage dissolving; instead, it retains the love once shared. What remain are regrets, the "sources of real grief and real pain," but with them comes, first dimly, then ever more clearly, the acceptance of a life that is able to let go, piece by piece, what once was..."
- Heidemarie Weidner, Editor, Under the Sun
or
Not Currently Available for Direct Purchase