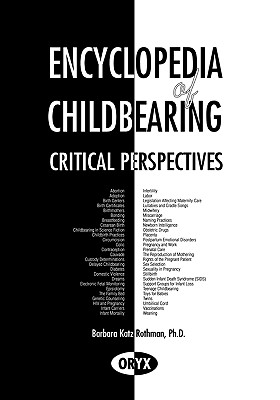 Encyclopedia of Childbearing
Critical Perspectives
Hardcover

* Individual store prices may vary.
Description
Childbearing is more than pregnancy and labor. It is the having and not having of children. It is a profound event in the lives of families-and in the lives and bodies of women. The feminist movement and the development of feminist studies have helped to rehumanize the subject of childbearing by removing it from the remote environment of institutionalized medicine. The multi-disciplinary Encyclopedia of Childbearing is a major contribution to this new accessibility.
Oryx Press, 9780897746489, 472pp.
Publication Date: November 17, 1992
About the Author
Barbara Katz Rothman, PhD, is professor of sociology, Baruch College and the Graduate School and University Center of the City University of New York. She was the 1993 president of the Society for the Study of Social Problems. She coauthored, with Wendy Simonds, Centuries of Solace: A Comparative Analysis of Maternal Consolation Literature (1992). Dr. Rothman is author of Recreating Motherhood: Ideology and Technology in a Patriarchal Society (1989), which received the 1991 Jessie Bernard Award of the American Sociological Association, The Tentative Pregnancy: Women's Experience with Amniocentesis and Prenatal Diagnosis (1993) and In Labor: Women and Power in the Birthplace (1982, 1991).