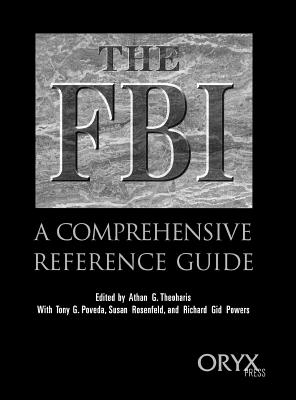 The FBI (Hardcover)
A Comprehensive Reference Guide
Oryx Press, 9780897749916, 424pp.
Publication Date: November 1, 1998
* Individual store prices may vary.
Description
From the Palmer Raids to the McCarthy era, to ABSCAM and Waco, the FBI has been enmeshed in controversy since its creation. It is also deeply woven into the fabric of our national identity and popular culture. The subject of countless movies, books, and television shows, we are fascinated by its mystique and drama. But how did the bureau that began with a modest 34 investigators in 1908 become the powerful force that it is today, employing over 12,000 agents across the country?
About the Author
ATHAN G. THEOHARIS is nationally recognized as a leading authority on the FBI. He served as a consultant in 198081 to the National Archives Task Force on FBI Records and in 197576 as a consultant to the Senate Select Committee on Intelligence Activities, and he has testified frequently before Congress on electronic surveillance policy, federal records policy, and the Freedom of Information Act. He is the author of numerous books and articles on the FBI, including Spying on Americans: Political Surveillance from Hoover to the Huston Plan, From the Secret Files of J. Edgar Hoover, The FBI: An Annotated Bibliography and Research Guide, and The Boss: J. Edgar Hoover and the Great American Inquisition. Theoharis is currently writing a history of the FBI covering the period from 1939 to 1956. He is a professor of history at Marquette University.TONY G. POVEDA is a professor of sociology at the State University of New York, Plattsburg, where he served as chair of the sociology department and coordinator of the criminal justice program. He is the author of Lawlessness and Reform: The FBI in Transition and Rethinking White Collar Crime and has published numerous scholarly articles. For the past 20 years, his research has focused on the crimes of large organizations, including corporations and government agencies. Poveda received his doctorate in criminology from the University of California at Berkeley.SUSAN ROSENFELD was appointed as the FBIs first official historian in 1984 and held this position for almost nine years. Previously, she taught at Cornell, Georgetown, American, Howard, and Virginia Commonwealth Universities and worked for the National Archives analyzing the FBI, Watergate, and other government investigatory records. Rosenfelds writings include: the entry on J. Edgar Hoover in Scribners Dictionary of American Biography, a brief history of the FBI, a history of the J. Edgar Hoover Building, and numerous articles. Currently she is writing a book on the history of U.S. government surveillance.RICHARD GID POWERS is a professor of history at the College of Staten Island and the Graduate School of the City University of New York, where he also directs the American Studies Program. His writings on the FBI include Secrecy and Power: The Life of J. Edgar Hoover, G-Men: Hoovers FBI in American Popular Culture, and Not Without Honor: The History of American Anticommunism. He is currently writing a history of the FBI.