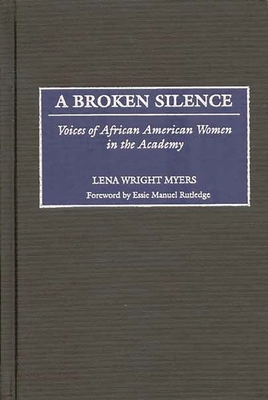 A Broken Silence (Hardcover)
Voices of African American Women in the Academy
Praeger, 9780897897938, 144pp.
Publication Date: February 28, 2002
* Individual store prices may vary.
Description
This book addresses the interlocking systems of race and gender in institutions of higher education in America. The study is based on empirical data from African American women of various disciplines in faculty and administrative positions at traditionally white colleges and universities. It focuses primarily on narratives of the women in terms of how they are affected by racism, as well as sexism as they perform their duties in their academic environments. The findings suggest that a common thread exists relative to the experiences of the women. The book challenges and dispels the myth that Black progress has led to equality for African American women in the academy.
The results of this study make it even more critical that the voices of African American women be heard and their experiences in the academy be expressed. This may be one way to inform academic and lay readers that racism and sexism are not dead.
About the Author
LENA WRIGHT MYERS is Professor of Sociology at Ohio University and the author of numerous scholarly contributions to sociology, race, ethnicity, class, and gender.