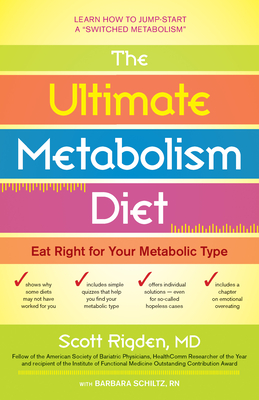 The Ultimate Metabolism Diet (Paperback)
Eat Right for Your Metabolic Type
Hunter House Publishers, 9780897935104, 246pp.
Publication Date: December 30, 2008
Other Editions of This Title:
Hardcover (12/30/2008)
* Individual store prices may vary.
Description
Atkins, the Zone, the South Beach Diet. Anyone with a serious weight problem has probably tried and failed to use one of these diets to lose weight. And it's not their fault. According to weight loss specialist Dr. Scott Rigden, there is no miracle diet that works for everyone because everyone possesses a unique body type and corresponding metabolism. People can be divided into five different metabolic types that have a corresponding plan of specific dietary and lifestyle habits that make weight loss work. In this book, Rigden helps readers determine their metabolic type and then devotes a chapter to each one with dietary, exercise, supplement, and medicine advice complete with glossaries and case studies. He also includes chapters on emotional eating and how to mentally prepare for weight loss. Readers find out why conventional diets don t work and, using the guidelines in this book, jump-start their metabolism and experience safe, permanent weight loss.
Praise For The Ultimate Metabolism Diet: Eat Right for Your Metabolic Type…
"One of only a few bariatric doctors to be named as a fellow of the American Society of Bariatric Physicians, Rigden here presents a fresh view of the plight of the chronically overweight person by describing in detail five common yet rarely diagnosed metabolic issues that plague a significant percentage of those who are obese. He shares important insights about carbohydrate sensitivity, the metabolic syndrome, hormonal imbalances, food hypersensitivities, and weight gain related to impaired liver problems. Each section of his book contains a screening questionnaire to help readers determine their particular issues as well as nutritional and behavioral advice on dealing with each metabolic type. Case stories illustrate the concept that everyone has unique metabolism and body-type combinations that require specific diets, supplements, and exercise in order to achieve one's best state of health. An insightful chapter on addressing emotional eating and a small appendix of recipes round out the book. Recommended for public libraries and any library with a holistic medicine collection." Library Journal, Crystal Renfro, Georgia Inst. of Technology Lib. & Information Ctr., Atlanta