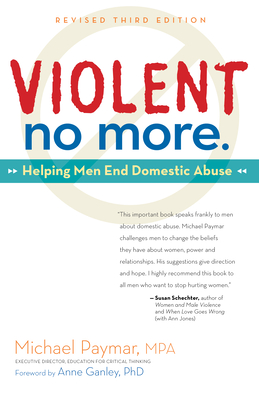 Violent No More
Helping Men End Domestic Abuse, Third Ed.
Paperback

* Individual store prices may vary.
Other Editions of This Title:
Hardcover (2/24/2015)
Description
Violent No More is for men who have struggled with or are currently being violent in an intimate relationship. Filled with real stories of men who have harmed the ones they love and found the courage to change, this highly acclaimed book has helped thousands acknowledge and reform their abusive behavior. Author Michael Paymar doesn't sidestep the unpleasant reality of domestic violence--included here are the sometimes shocking first-person accounts of violent men, along with those of battered women. More importantly, many of these stories illustrate the ways in which men were able to stop their use of violence and control. This edition contains four new chapters which address the challenges faced by practitioners who work with domestic violence offenders or victims, and the particular struggles faced by combat veterans returning from war, many of whom come home with PTSD and other mental health issues. With group exercises and individual goal-setting plans to help men find healthy ways of responding to conflict, change the cultural conditioning that condones violence, and avoid reverting to old patterns, Violent No More is an essential guide for men dealing with violence issues, as well as for the professionals who assist in their efforts to improve.
Hunter House Publishers, 9780897936651, 402pp.
Publication Date: December 30, 2014
About the Author
Michael Paymar has lectured and trained, both nationally and internationally, on human rights and ending gender-based violence. He provides training and technical assistance to professionals in the criminal and civil justice system, law enforcement, and the military on how to end domestic violence. Paymar lives in Minneapolis, MN, where he serves in the U.S. House of Representatives. Anne Ganley lives in Seattle, WA.