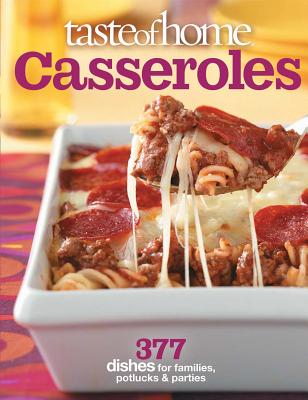 Taste of Home Casseroles (Paperback)
377 Dishes for Families, Potlucks & Parties
Reader's Digest/Taste of Home, 9780898218763, 256pp.
Publication Date: October 27, 2011
* Individual store prices may vary.
Description
Taste of Home Casseroles contains 377 sensational dishes for families, potlucks, & parties. The people who know comfort food best have created the ultimate collection of bubbling hot bakes with more than 370 one-dish favorites ideal for today's family cook. Casserole, hot dish, meal-in-one...no matter what you call it, these comforting sensations have been family favorites for years. With this hearty collection, today's cooks can always find the perfect casserole, including:
Weekend Breakfast Bake
Cinnamon Raisin Strata
Biscuit Pizza Bake
Crunchy Turkey Casserole
Mexican Chicken Bake
Mac 'n' Cheese with Ham
Smoked Pork Chops with Sweet Potatoes
Seafood 'n' Shells Casserole
Coconut Carrot Casserole
Mostaccioli Bake
Whether baking a bubbling sensation on a busy weeknight, creating a heartwarming entree for a dinner party or planning a satisfying contribution for a potluck event, the ideal one-dish specialty is always on hand with
Taste of Home Casseroles
About the Author
Catherine Cassidy, Taste of Home Editor-in-Chief. Launched in 1993, Taste of Home is the most popular recipe magazine in the world, with nearly 4 million paid subscribers. The delectable, practical recipes-more than 60 in each issue-are family favorites contributed by Taste of Home readers. The dishes, all beautifully photographed, capture special flavors of the season and are made with ingredients that home cooks are likely to have on hand or can readily find at a local supermarket. New recipe contests are announced every issue, and readers are encouraged to send their best recipes for Taste of Home's regular features, like "A Complete Meal in a Matter of Minutes," "Cooking for One or Two," "My Mom's Best Meal," "Super Snacks & Appetizers," and "Just Desserts." The magazine's unique staff of field editors is made up of more than 1,000 experienced home cooks located in each state and Canadian province, who regularly share recipes, well-liked menus and kitchen tips. Taste of Home is published six times a year and has five sister magazines, Simple & Delicious, Slow Cooker, Appetizers, Cooking for 2, and Healthy Cooking. From October 2008 through October 2010 the number of unique monthly visitors to the TOH family of websites increased over 111% to 2.8 million and page views increased over 124%. Visit TasteofHome.com. The Taste of Home facebook page alone has a growing fan base of over 150,000 friends. Like it today!