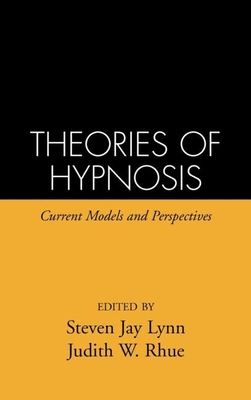 Theories of Hypnosis (Hardcover)
Current Models and Perspectives (The Guilford Clinical and Experimental Hypnosis Series)
The Guilford Press, 9780898623437, 634pp.
Publication Date: October 4, 1991
* Individual store prices may vary.
Description
It has been said that "hypnosis is a collection of techniques in need of a unifying theory." (James A. Hall, Hypnosis: A Jungian Perspective). While the varied substrates of these techniques preclude the formation of any one theory of hypnosis, this volume presents a "state-of-the-science" view of existing theories of hypnosis. Written by eminent scholars and researchers, this uniquely authoritative resource also provides a wealth of information about the history of hypnosis, clinical and research perspectives on hypnosis, and the strengths and weaknesses of empirical methods used to address crucial theoretical questions.

The streamlined organization of the volume facilitates the reader's ability to contrast and compare research findings and concepts across theories. In the introductory chapters, the editors describe hypnosis paradigms and schools of thought, including major points of convergence and divergence, as well as a broad vista of different perspectives on the history of hypnosis. The theoretical chapters that follow present definitive statements by an international array of eminent scholars who are at the forefront of conceptual advances in the realms of clinical and experimental hypnosis. Their contributions, written in lively first-person narratives, explore current thinking about hypnosis and represent important clinical and research traditions that extend beyond the territory of hypnosis to mainstream psychology.

Providing a thorough discussion of hypnotic phenomena, the book tackles tough questions such as whether hypnosis evokes an altered state of consciousness; whether hypnotic behavior is involuntary; whether hypnotizability is stable, trait-like, and modifiable; and whether hypnotic and non-hypnotic behavior can be distinguished in meaningful ways. The diversity of viewpoints, including competitive ones, illuminates the debates which have expanded the frontiers of knowledge about hypnosis. In the concluding section, the editors compare and contrast these theories, discuss pertinent research issues, and lay out an agenda for future research.

Given its stellar list of contributors and the unique niche it occupies as the first authoritative survey of its kind, THEORIES OF HYPNOSIS is of value to anyone interested in the topic. The editors' ten years of experience teaching hypnosis to psychology and medical students has resulted in a book with enormous appeal to students and instructors, as well as clinicians and researchers. A wide variety of professionals--academics, clinical psychologists, psychiatrists, social workers, dentists--will find it an authoritative introduction and invaluable reference to this still-growing, ever-fascinating field.

About the Author
Steven Jay Lynn, Ph.D., is Professor of Psychology at Ohio University and has a private practice. He is a former president of the American Psychological Association's Division of Psychological Hypnosis; a fellow in the American Psychological Association, the American Psychological Society, the Association for Applied and Preventative Psychology, and the Society for Clinical and Experimental Hypnosis; and a diplomate and member of the executive committee of the American Board of Psychological Hypnosis. In 1991, the Society for Clinical Hypnosis honored Theories of Hypnosis (co-edited with Judith W. Rhue) as best hypnosis book of the year. Dr. Lynn is an advisory editor of the Journal of Abnormal Psychology, the International Journal of Clinical and Experimental Hypnosis, and the American Journal of Clinical Hypnosis, and a North American editor of Contemporary Hypnosis. He has written or edited textbooks on abnormal psychology, hypnosis, and psychotherapy and has published more than 120 articles

Praise For Theories of Hypnosis: Current Models and Perspectives (The Guilford Clinical and Experimental Hypnosis Series)…
"This valuable book superbly covers the recent explosion of theories and models of hypnosis. All students and researchers interested in this fascinating topic must read it because, henceforth, serious discussion of the nature of hypnosis will begin here.'' --T. X. Barber, Ph.D.

"A first-rate collection of the modern theories of how hypnosis is currently understood. Outstanding chapters from many of the best scientific and clinical theoreticians from around the world attempt to describe a phenomenon that has no universal common understanding. The reader who strives for his or her own understanding of how the mind works in the context of subtle yet powerful human interactions will find this book an indispensable resource for study and reflection. The scientist and clinician will find this book so up to date that the future of the field will seem to tumble from its pages. I thoroughly recommend it.'' --Peter B. Bloom, M.D.

"A thoughtful, vigorous, well-written, and serious examination of the intellectual state of hypnosis....It is a compilation of the recent thinking of many leading investigators and clinicians in the field. While we do not yet have an underlying theory of hypnosis, Theories of Hypnosis, in its very scope and scholarly tone, shows us why the field is mobilizing increasing amounts of intelligent attention.'' --David Speigel, M.D.

"This book is a remarkable achievement. For much too long our understanding of hypnosis has been limited by sectarian disagreement over the very nature of hypnosis. Theoreticians and researchers have banded together in armed camps which have often seemed more intent on disparaging the other fellow's theory than in advancing our conceptual framework. Theories of Hypnosis represents what is perhaps the beginning of a rapprochement....The list of authors reads like a veritable who's who of hypnosis theory and practice....The net effect is both comprehensive and stimulating. While the various theories are well represented, the juxtaposition of the various viewpoints makes for a lively and thought-provoking book which [is] a pleasure to read....Overall, the feeling is not so much that this book is timely as much as it is long overdue. One wonders how we have gotten along without it." --Peter Brown, M.D., FRCP (C)

"This book is a state-of-the-art review and discussion of the historical and current status of theory in hypnosis. There is available no other single volume which is so authoritative and thorough in its scope. The list of contributing authors resembles a roster of the most eminent modern workers in the field, thus insuring that the large number of presentations have been prepared by well regarded experts who are themselves actively engaged in hypnosis research and practice, even though the majority of the contributors are more identifiable as the former. The editors have achieved a noteworthy accomplishment by melding this multiplicity of views into a meaningful and well organized whole...Every serious practitioner and student of hypnosis should read this book. It will surely be a standard for years to come." --Melvin A. Gravitz, PhD, ABPP, ABPH, Clinical Professor of Psychiatry and Behavioral Sciences, George Washington University, review in Psychotherapy and Private Practice
 
"The most comprehensive discussion of theories of hypnosis available....A significant contribution."
— Journal of Clinical Psychiatry
"This book is an important landmark in the history of hypnosis in that it brings together virtually all the leading theorists to present their views on the nature of this most fascinating phenomenon....it undoubtably provides a comprehensive picture of the present 'state of the art'...and is likely to become an important reference text on hypnosis theory for the next 20 years, at least."
— Contemporary Hypnosis
"Only, perhaps, once in a decade is there published a work on hypnosis so comprehensive and so useful to the students of hypnosis and his or her instructor. For all students, instructors, and others seriously interested in the theoretical problems of hypnosis, it will be essential reading and a highly desirable addition to the bookshelf."
— International Journal of Clinical and Experimental Hypnosis
"It should be on the book shelf of every member of APA's Division 30, the American Society of Clinical Hypnosis, and the Society for Clinical and Experimental Hypnosis."
— Contemporary Psychology