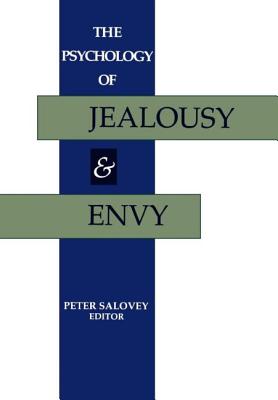 The Psychology of Jealousy and Envy (Hardcover)
The Guilford Press, 9780898625554, 293pp.
Publication Date: February 15, 1991
* Individual store prices may vary.
Description
After decades of banishment to popular magazines and advice columns, jealousy and envy have emerged as legitimate topics of scientific inquiry. This volume includes chapters from nearly every major contributor to the psychological literature in this area. From emotional, and cognitive processes that underlie jealousy and envy; to the ways these emotions are experienced and expressed within close relationships; to family, societal, and cultural contexts, the volume offers a definitive statement of current theory and research.

About the Author
Peter Salovey received his Ph.D. in clinical psychology from Yale University in 1986 where he is presently an associate professor contributing to both the social/personality and clinical psychology programs. His major research interest is the functions of human emotion, especially the manner in which emotions direct cognition, motivate social behavior, and color close relationships. Most recently, Salovey has been concerned with complex emotions such as envy and jealousy, and the influence of emotions on perceptions of health and illness. He is the co-author of PEER COUNSELING (with Vincent J. D'Andrea) and REASONING, INFERENCE, AND JUDGEMENT IN CLINICAL PSYCHOLOGY (with Dennis Turk). Salovey is also the editor of the Guilford Emotions and Social Behavior Series.

Praise For The Psychology of Jealousy and Envy…
"THE PSYCHOLOGY OF JEALOUSY AND ENVY is must reading for anyone in the close-relationships field, but will be of interest to anyone at all who has ever experienced these emotions or who has been the victim of them in someone else. The book is full of interesting insights....Anyone and everyone will stand to gain from this book not only from an academic standpoint, but from the very practical standpoint of understanding experiences they confront in their everyday close relationships."--Robert J. Sternberg, IBM Professor of Psychology and Education, Yale University

"This book offers an extremely distinguished set of authors who are all at the forefront of the growing work on jealousy and envy. Salovey has done a great service in pulling together into this one volume these scholars' work on an emotion that almost everyone has felt. This book lays bare the basis for the legitimate scientific study of jealousy and envy and shows how theoretical and empirical developments have culminated in some very strong and broad advances in our knowledge. The book is an outstanding sign of the advances that can be made in understanding the processes of personal relationships and of persons in relationships."--Steve Duck, Ph.D., Daniel & Amy Starch Research Professor, The University of Iowa

"Provides the most comprehensive review available of the current state of research on jealousy. It should be very valuable to researchers and clinicians, as well as to graduate students and advanced undergraduates."
— Contemporary Psychology
"This excellent book confronts the therapist. How these exciting ideas can be utilized in a clinical setting...is a task that keen therapists will regard as one worth tackling. "
— Journal of Sex & and Marital Therapy