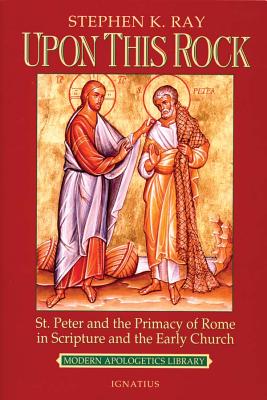 Upon This Rock (Paperback)
St. Peter and the Primacy of Rome in Scripture and the Early Church
Ignatius Press, 9780898707236, 350pp.
Publication Date: March 1, 1999
* Individual store prices may vary.
Description
Ray, a former Evangelical Protestant and Bible teacher, goes through the Scriptures and the first five centuries of the Church to demonstrate that the early Christians had a clear understanding of the primacy of Peter in the see of Rome. He tackles the tough issues in an attempt to expose how the opposition is misunderstanding the Scriptures and history. He uses many Protestant scholars and historians to support the Catholic position. This book contains the most complete compilation of Scriptural and Patristic quotations on the primacy of Peter and the Papal office of any book available. It has over 500 footnotes with supporting evidence from Catholic, Orthodox, Evangelical, and non-Christian authorities.
About the Author
Stephen K. Ray was raised in a devout and loving Baptist family. His father was a deacon and Bible teacher, and Stephen was very involved in the Baptist Church as a teacher of Biblical studies. After an in-depth study of the writings of the Church Fathers, both Steve and his wife Janet converted to the Catholic Church. He is the host of the popular, award-winning film series on salvation history, The Footprints of God. Steve is also the author of the best-selling books Crossing the Tiber, and St. John's Gospel.