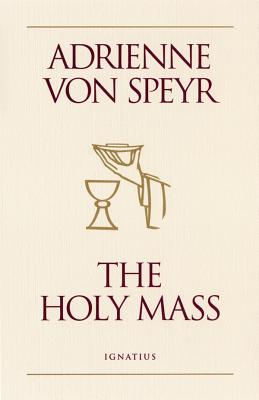 The Holy Mass (Paperback)
Ignatius Press, 9780898707304, 98pp.
Publication Date: August 1, 1999
* Individual store prices may vary.
Description
This meditation on the Mass by the mystic Von Speyr contains many penetrating insights, particularly about the nature of the Mass as sacrifice—of Christ, of his priest, and of every believer united in and with the entire Church—expressed with a poetic layering of concepts and images that is at once complex and lucid, dense and transparent. The meditation rewards the present-day reader's effort with a fresh and palpable sense that the real truth of the Church's constant re-presentation, re-enactment of Christ's "sacrifice once offered" transcends not only the nearly half-a-century since Von Speyer's meditation, but all time —time which is itself sanctified precisely through the endless repetition of the Sacrament of unity that is the Holy Mass.
About the Author
Adrienne von Speyr  (1902-1967) was a Swiss medical doctor, convert to Catholicism, a mystic, wife and author of over 60 books on spirituality and theology. She collaborated closely with the renowned theologian Hans Urs Von Balthasar, her confessor for 27 years, and they co-founded the Community of Saint John. Her numerous writings, published by Ignatius Press, are recognized by leading theologians and writers as a major contribution to the mystical and spiritual writings of the Church. Among her most important works are Book of All Saints, Confession, The World of Prayer, Handmaid of the Lord, and The Passion from Within.