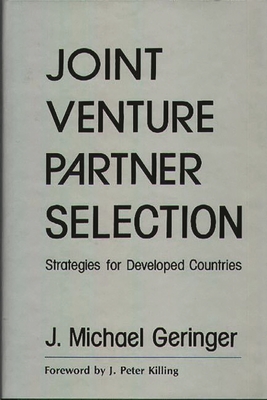 Joint Venture Partner Selection (Hardcover)
Strategies for Developed Countries
Praeger, 9780899303659, 247pp.
Publication Date: September 2, 1988
Description
Written especially for those involved in strategic planning for international business ventures, this is the first full-fledged analysis of an essential element in the joint venture process--the selection of the appropriate joint venture partner. Because the right partner remains the primary determinant of the success or eventual failure of a joint venture partnership, Joint Venture Partner Selection will profit every manager and executive involved in the complex partner selection process. Author J. Michael Geringer identifies the criteria that must be considered when choosing the right partner, analyzes each criteerion in depth, and evaluates the weight to be given to each factor in the overall decision-making process.
About the Author
J. MICHAEL GERINGER is Assistant Professor of Policy in the School of Business Administration at the University of Western Ontario.
Advertisement