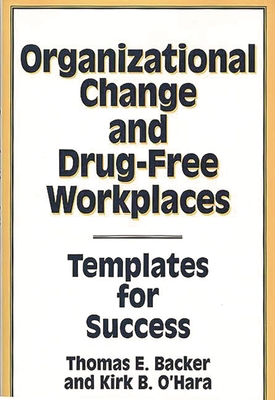 Organizational Change and Drug-Free Workplaces (Hardcover)
Templates for Success
Praeger, 9780899304342, 208pp.
Publication Date: June 30, 1991
* Individual store prices may vary.
Description
Since 1986, when America's current perception of a drug abuse crisis in the workplace began, many challenges and potential solutions have been identified. As we enter the 1990s, real progress in awareness and action has been made in many public and private American workplaces. However, the most important accomplishment--actual reduction in the number of persons using drugs in the workforce--is considerably more difficult to achieve. Research is being conducted in a number of employment settings to document how this can be done. While the results to date are encouraging, it is also clear that much remains to be done. Evidence from the national research reported in this book shows that many organizations regard their achievements on this front as modest at best, even though they have installed systematic programs aimed at reducing the problems of worker drug abuse.
The organizational change approach required to achieve drug-free workplaces is the main subject of this book. Based upon findings from a three-year national research study, Thomas Backer and Kirk O'Hara examine what has been done to combat drug abuse in the workplace. They place the results of their inquiry within the larger context of organizational change theory. The critical secondary issues of responses to AIDS in the workplace and containing employer health care costs through managed care are also addressed. This book's focus on programmatic responses to workplace drug abuse at the day-to-day implementation level will be welcomed by substance abuse professionals, designers and directors of employee assistance programs, human resources and benefits professionals, and managers concerned about substance abuse in the workplace.
About the Author
THOMAS E. BACKER is President of the Human Interaction Research Institute, a Los Angeles-based nonprofit center for research on knowledge utilization and organizational change in health care and human resources. He is also Associate Clinical Professor of Medical Psychology at the UCLA School of Medicine. Dr. Backer is the author of more than 250 books, articles, and research reports, including Strategic Planning for Workplace Drug Abuse Programs, and a forthcoming book on uses of mass media for public health education. He is a Fellow and past-President of the American Psychological Association's Division of Consulting Psychology and of the Knowledge Utilization Society.KIRK B. O'HARA is a Senior Consultant with Fuchs, Cuthrell, and Co., Inc., in Los Angeles and Research Scientist at the Human Interaction Research Institute. He is the co-author (with Thomas E. Backer) of Drug Abuse in the Workplace: An Annotated Bibliography 1977-1988. Dr. O'Hara also has published numerous articles for various scholarly journals.