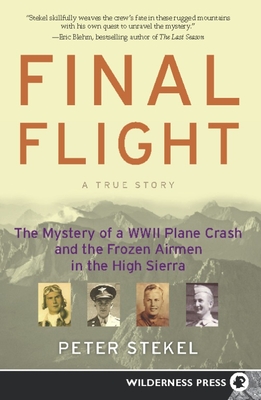 Final Flight (Paperback)
The Mystery of a WWII Plane Crash and the Frozen Airmen in the High Sierra
Wilderness Press, 9780899974750, 236pp.
Publication Date: September 14, 2010
Other Editions of This Title:
Hardcover (7/1/2018)
* Individual store prices may vary.
Description
In October 2005, two mountaineers climbing above Mendel Glacier in the High Sierra finds the mummified remains of a man in a WW II uniform, entombed in the ice. The "Iceman" discovery creates a media storm which draws author Peter Stekel to investigate and stumble upon the case of a navigation training flight crew missing since 1942. Early attempts at recovery are thwarted due to empty graves, botched records, bad weather, bad luck, and bad timing. Then, in 2007, Stekel himself discovers a second body in the glacier. Through meticulous research, interviews, and his own mountaineering trips to the site, Stekel uncovers the identities of these four young men. Final Flight explores the story of the ill-fated flight and the misinformation surrounding it for over 60 years. The book is a gripping account that's part mystery, part history, and a personal journey to uncover the truth of the events that occurred on November 18, 1942. In the process, Stekel rewrites the young aviators' last days and takes us on their final flight.
Praise For Final Flight: The Mystery of a WWII Plane Crash and the Frozen Airmen in the High Sierra…
Stekel has breathed warm life into these long lost World War II airmen who disappeared while on a training mission in 1942. Entombed in High Sierra glacial ice for more than sixty years before being discovered by climbers and the author himself, Stekel skillfully weaves the crew's fate in these rugged mountains with his own quest to unravel the mystery." Eric Blehm, bestselling author of The Last Season and The Only Thing Worth Dying For

Because truth really does trump fiction for drama, Final Flight reads like a good novel and sticks with you like a particularly affecting play. Superbly researched, compellingly written, and lovingly relived, this gripping tale both solves an old mystery and serves as a moving tribute to all fallen fliers. By actually trekking to the remote site of the crash and making a stunning discovery there, Stekel rescues a sad story from dead-end status and turns it into a living memorial.Robert Michael Pyle, author of Chasing Monarchs and Sky Time in Gray's River

... [An] invigorated appreciation of the dedication of the men and women of the Greatest Generation.? Michael Sledge, author of Soldier Dead: How We Recover, Identify, Bury, and Honor Our Military Fallen

Capture[s] the history, geography, and the mystery surrounding this inspiring tale of the High Sierra.Pat Macha, author of Aircraft Wrecks in the Mountains and Deserts of California

Those who love the high country will find this a fascinating read.William Tweed, Co-author of Challenge of the Big Trees: A Resource History of Sequoia and Kings Canyon National Parks

If you love our parks, and if you love a good mystery, you need Final Flight; it will be a read you can not put down. Stekel does a masterful job of painstakingly putting this seven-decade old "jigsaw puzzle" together touchingly for you: frozen airman by frozen airman.Charles R. "Butch" Farabee, Jr., author of Death, Daring, & Disaster - Search and Rescue in the National Parks

A thoroughly enjoyable...detective storyDouglas H. Clark, Ph.D. Associate Professor, Geology Department, Western Washington University