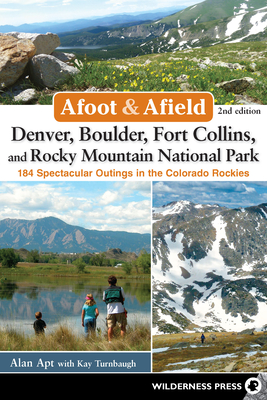 Afoot and Afield
Denver, Boulder, Fort Collins, and Rocky Mountain National Park: 184 Spectacular Outings in the Colorado Rockies (Afoot & Afield)
Paperback

* Individual store prices may vary.
Other Editions of This Title:
Hardcover (7/1/2018)
Description
Afoot and Afield: Denver, Boulder, Fort Collins, and Rocky Mountain National Park is one of the most comprehensive hiking and biking books available. Alan Apt, author of the best-selling guidebook, Snowshoe Routes Colorado's Front Range, and Kay Turnbaugh, author of Around Nederland, carefully describe 184 adventures for people of all abilities and interests. The book includes everything from easy access Front Range lakeside strolls to high challenging treks among the high peaks. Many trails are great for kids (of all ages)--less ambitious but highly satisfying, easy gambols in the natural world. The geographical scope of the book stretches from the Fort Collins area to Colorado Springs, and west to Rocky Mountain National Park, Fairplay, and Independence Pass; with superb coverage of mountains, plains, canyons and riverside adventures. The new edition offers much more than the first edition, with:
184 trails, many of them new
60+ hikes within one hour of Denver-Boulder
33 peak summit hikes--20 mountain summits, 13 foothills
80 hikes with options for families with kids
43 hikes in Rocky Mountain National Park
57 hikes to lakes
65 trails good for mountain biking
80 trails good for winter sports.
Wilderness Press, 9780899977553, 416pp.
Publication Date: July 7, 2015
About the Author
Alan Apt has been roaming Colorado's hills and dales for more than 30 years. He is the author of the best-selling guidebook "Snowshoe Routes: Colorado's Front Range." He is a somewhat reformed peak bagger who has climbed many of the state's highest summits but also thoroughly enjoys the lakes, vales, and rivers. Alan is an avid hiker, biker, snowshoer, backcountry skier, kayaker, and backpacker and has trekked in the Andes, Alps, Himalayas, and Sierra Nevada. Alan is a member of the Colorado Mountain Club and a Sierra Club trip leader, as well as a member of Friends of the Poudre. He is a former Fort Collins city council member and worked to create the city's Wind Power Program. He also served on the city's Natural Resources Board. He is a National Ski Patrol volunteer member with the Bryan Mountain Nordic Ski Patrol. Formerly a technical book publisher, he is now a freelance writer and editor living in Nederland, Colorado. Kay Turnbaugh, an avid hiker, mountain biker, road biker, snowshoer, and skier, has lived in the small mountain town of Nederland, Colorado, for almost all of her adult life. She was the editor and publisher of "The Mountain-Ear," an award-winning weekly newspaper in Nederland, for 27 years. She has written three books: "The Mountain Pine Beetle--Tiny but Mighty," a book for 8- to 12-year-olds that is also enjoyed by many adults; "Around Nederland," a book about Nederland's history; and "The Last of the Wild West Cowgirls," a biography of Goldie Griffith, who rode bucking broncos for Buffalo Bill, trained war dogs, ranched near Nederland, ran restaurants, and reinvented herself whenever necessary. "The Last of the Wild West Cowgirls" won a Willa Literary Award in 2010 for creative nonfiction.