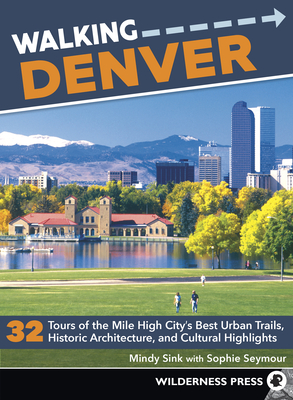 Walking Denver (Paperback)
32 Tours of the Mile High Cityas Best Urban Trails, Historic Architecture, and Cultural Highlights
Wilderness Press, 9780899978680, 192pp.
Publication Date: April 24, 2018
* Individual store prices may vary.
Description
Get to Know Denver's Most Vibrant and Historic Neighborhoods
People come to Denver for the nearby mountains and spectacular natural beauty, the outdoor lifestyle and mild climate with abundant sunshine. They also discover a city that's ideal for exploring on foot. Become an urban adventurer Mindy Sink guides you through 32 unique walking tours in this comprehensive guide to the best sights and sites that Denver has to offer--with insider advice on where to dine, have a drink, and shop. Enjoy routes that showcase diverse neighborhoods and spectacular natural beauty, all in one of America's most walkable cities. Discover Denver's history, backstories, culture, parks, architecture, and trivia. Explore Lookout Mountain Nature Center and Preserve, the lively Art District on Santa Fe, the Mile High Loop in City Park, and much more.
In this new edition, the author invited middle-grade student Sophie Seymour to contribute "Kid Tips" to select walks that are most suitable for families. Sophie highlights the elements of these walks that appeal to kids: playgrounds, wildlife, and activities.
Trek through the heart of the city, to the foothills of the Rocky Mountains, and across the eastern plains. Whether you're looking for a two-hour stroll or a full-day's entertainment, find a route that appeals to you, and walk Denver
About the Author
Mindy Sink wrote the first edition of Walking Denver and is also the author of Moon Handbooks Guide to Denver and a coauthor of Colorado Organic: Cooking Seasonally, Eating Locally. She has written extensively for The New York Times, and her work has also appeared in The Christian Science Monitor, Sunset Magazine, and many other well-known publications and websites. Mindy lives in Denver with her husband and their daughter--whose school is, of course, within walking distance from their home. To learn more about Mindy, go to mindysink.com. Sophie Seymour is in middle school and lives in the Highlands neighborhood (see Walks 8, 9, 10, and 11). In addition to urban walks, she enjoys running, skiing, writing, reading, and studying epidemiology.